Belgian Chocolate Waffles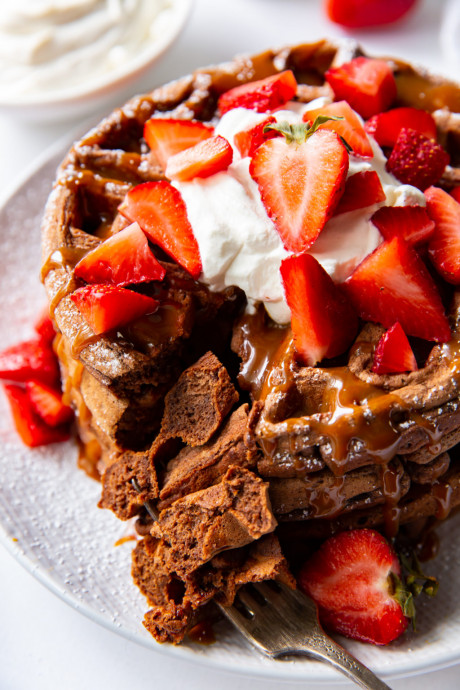 Made with a handful of basic ingredients, these Belgian Chocolate Waffles are ready in under 30 minutes. Make a big batch and freeze some for later! Nothing beats a stack of fluffy Belgian waffles dusted with powdered sugar and drowned in maple syrup. Nothing, that is, except for chocolate Belgian waffles! The waffle batter is flavored with a mixture of vanilla, some sugar, and cocoa powder. I prefer using cocoa powder because it imparts a rich chocolate flavor without making the batter overly sweet.
The waffles can be topped with fresh fruit, maple syrup, butter, or even fudge sauce if you want to go all out. How about that for an easy breakfast idea? Make this Belgian chocolate waffle recipe for breakfast this weekend. You and your loved ones are bound to love it! This recipe is very similar to how classic Belgian waffles are made. Be sure to preheat your waffle iron before making the batter! Waffles are best reheated in a 350ºF oven for about 5 minutes. You can also reheat waffles in a toaster, but sometimes fluffy waffles get stuck in thinner toaster slots.
Ingredients:
2 cups all-purpose flour
½ cup unsweetened cocoa powder
5 tablespoons granulated sugar
4 teaspoons baking powder
½ teaspoon salt
2 eggs
1¾ cups milk (I used 2%)
6 tablespoons unsalted butter melted
1 teaspoon vanilla bean paste or vanilla extract