Chicken Satay with Spicy Peanut Sauce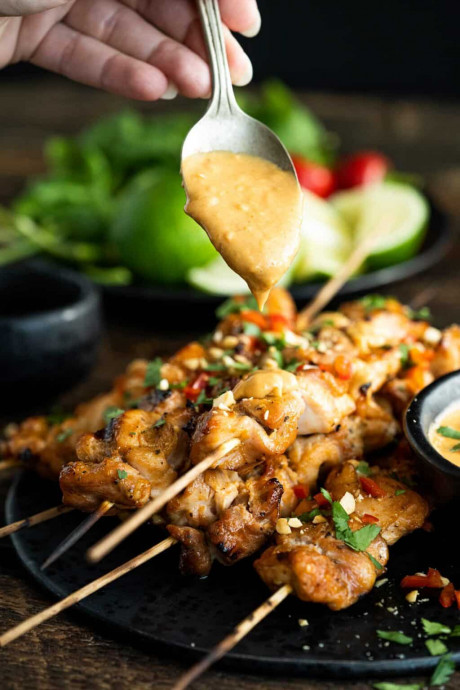 Juicy chicken thighs are marinated in an easy Thai-flavored marinade, then skewered and grilled until a little charred. And of course, don't forget the spicy peanut sauce that you'll be wanting to put on absolutely everything! If you're stuck in a dinner rut and tired of the same old chicken recipes, then I have just the recipe for you!
This chicken satay recipe is packed with bold flavors; a little savory, a little sweet, a little spicy… it's perfect!
If you have little ones, you can skip the Thai chiles as a garnish and/or reduce the amount of chili garlic sauce in the peanut sauce.
I found that just skipping the garnish was enough to make the chicken satay and sauce palatable for those that don't like spicy foods, but everyone's taste buds are different.
We like to serve this dish alongside some jasmine or basmati rice, and usually with a green vegetable.
Ingredients:
Marinade
2 Tbsp pineapple juice
2 Tbsp dark soy sauce
2 Tbsp coconut milk from a can, shaken very well before opening
2 Tbsp packed light brown sugar
1/2 Tbsp fish sauce
1/2 Tbsp lime juice
2 tsp Thai red curry paste
1 tsp sriracha
3 cloves garlic grated or pressed through a garlic press
1 1/2 tsp fresh ginger grated
1/4 tsp dried basil
1/4 tsp black pepper
1 1/2 – 2 lbs. boneless skinless chicken thighs trimmed of excess fat and sliced into 1 inch pieces
Peanut Sauce
1/2 cup natural creamy peanut butter
1/3 cup coconut milk from a can, shaken very well before opening
2 Tbsp lime juice
1 1/2 Tbsp dark soy sauce
1 1/2 Tbsp fresh ginger grated
1 Tbsp packed light brown sugar
1 clove garlic minced
1 tsp chili garlic sauce I usually use Huy Fong Foods brand
1 tsp Thai red curry paste
Garnish
chopped fresh cilantro
sliced Thai chiles
chopped peanuts