Sweetie Cherry Pie Lollipops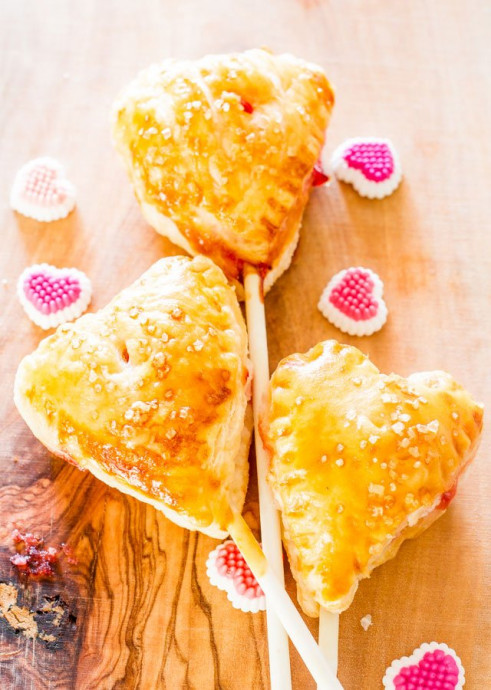 Cherry pie is my favorite pie. It's not even the pastry that I love, it's that silly cherry pie filling. I can eat that stuff by the cans, not that I do, but I could. I just love it, it's that sweet cherry taste that just drives me nuts, biting into a cherry and having it burst in my mouth, well I'm in love.
Let me tell you how easy these cutie pies are. I used Tenderflake puff pastry, basically it's 2 little blocks in a package and I have to roll them out. However, you can buy the puff pastry that comes into sheets and you don't really have to roll them much. You will need one of those cute heart shape cookie cutters though. I've had those lollipop sticks forever now for making cake pops and just never got around to it. Perfect use for them here.That's why I loved these cherry pie lollipops, though if it was up to me I would have added way more cherry filling but then it spills on the sides and they don't look pretty anymore.
Well I can't tell you how yummy they were, each one a perfect bite, or a couple bites. Perfect way to surprise your sweetie on Valentine's day, don't you think? Doesn't require much work, yet still pretty and just perfect for the occasion.
Ingredients
2 sheets puff pastry (1 package)
1/2 cup cherry pie filling
1 egg beaten for egg wash
turbinado sugar optional