Siren's Chocolate Cake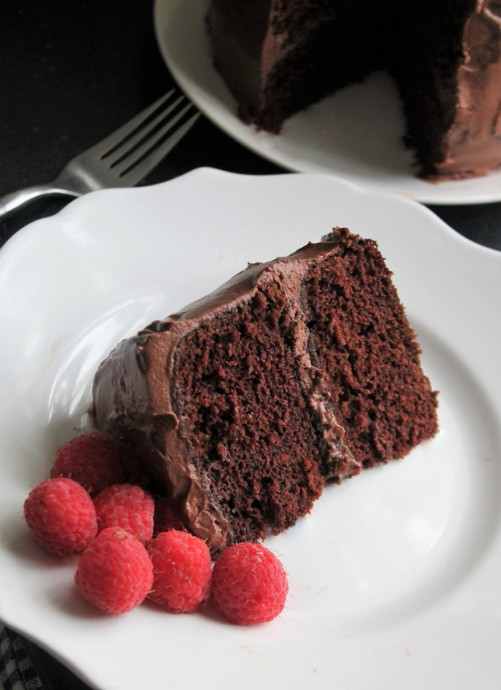 What could be better than Siren's Chocolate Cake – a mini chocolate cake with fluffy chocolate ganache frosting!
The recipe is fairly easy to put together. It calls for a double-boiler for the butter and chocolate, but you can also melt them together in the microwave for 30 seconds at a time, while stirring in between. It'll save you from having to wash the double-boiler. I didn't let the ganache firm up enough in the refrigerator before beating it in the mixer and it never got fluffy and spreadable. Started over, and the second time was more successful.
I did find that when turned on high, a mixer will slop liquid out of the bowl and onto anything or anyone standing close enough. Again: be sure and let your ganache firm up in the refrigerator before beating it.
The cake itself is very deeply chocolate and moist with an excellent crumb. That ganache frosting is silky and tastes buttery, even though there's no actual butter in it (except for the butter in the 1 1/2 cups of cream of course).
Ingredients:
1 1/4 C all-purpose flour
1 tsp baking soda
1/4 tsp salt
1/4 C butter
2 oz unsweetened baking chocolate, chopped
1 egg
3/4 C buttermilk
1 C sugar
1 tsp vanilla
Frosting (Chocolate Ganache):
8 oz semisweet chocolate chips
1 1/2 C heavy cream
1 tsp vanilla