Bread Pudding with Bourbon Sauce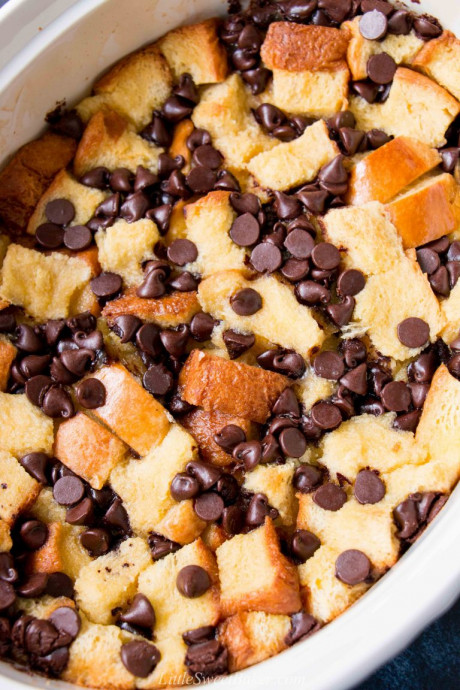 This classic New Orleans-style bread pudding is taken up a notch with the addition of chocolate chips and rich, buttery brioche bread. It's served with a warm bourbon sauce for a bold kick to your taste buds! Why this recipe is so great:
Easy to make – Everything from the bread pudding to the sauce is super easy to make. For the pudding, all you have to do is cut up the bread and layer it with chocolate chips, pour the egg mixture on top, let it soak, and bake. And while that's cooling, all you have to do is melt some butter, sugar, and milk over the stovetop. Stir in some bourbon and you've got this amazing warm boozy sauce to go with the pudding.
Tastes divine – What really makes this bread pudding recipe special is the ingredients, starting with the brioche bread. It's already sweet, buttery, and fragrant. Adding a rich and creamy custard made with half heavy cream instead of just milk takes this bread pudding to a whole new level of indulgence. On top of that, having swirls of melty chocolate in the mix and warm buttery bourbon poured all over the top makes it even better.
Can be made in advance – This recipe can be prepped the night before and served freshly baked out of the oven. Even the sauce can be made in advance and warmed up just before serving.
Ingredients:
bread pudding
8 cups (350g) brioche bread, cut into cubes
1 cup (175g) chocolate chips
1 cup (240ml) milk
1 cup (240ml) heavy cream
4 large eggs
1/2 cup (100g) granulated sugar
1 tsp vanilla extract
bourbon sauce
1/2 cup (114g) butter
1 cup (200g) granulated sugar
1/4 cup (60ml) milk
1/4 cup (60ml) bourbon