Orange Shakshuka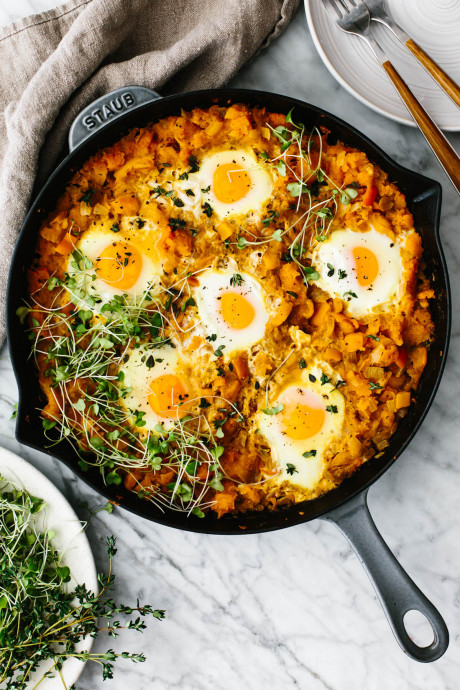 Orange shakshuka is a delicious variation of this much loved recipe, perfect for cozy fall and winter months. It's a warm and fragrant mix of butternut squash, onion, orange bell pepper, vegetable broth, garlic, spices, and herbs. It's a simple, simmering mixture with a few gently poached eggs on top that can be enjoyed for any meal of the day. And while this version may not be traditional, it sure is mighty tasty!
Orange shakshuka is a vibrant spin on the classic recipe and swaps tomatoes for everyone's favorite fall vegetable, butternut squash. You know I love eating with the seasons, so this version gives you a new shakshuka recipe to enjoy with fresh, creamy butternut squash, and earthy fall flavors like thyme, and nutmeg.
If you've made my classic version or my green shakshuka (filled with Brussels sprouts and zucchini), you know how incredibly versatile shakshuka is. That's the beauty of it. All you have to do is saute, and simmer some vegetables with spices and herbs, then plop a few eggs on top for a filling, nutrient-dense, one-pan meal.
Hopefully, this orange version proves that the variations to shakshuka truly are endless, because this is one dish that deserves to be eaten every season of the year.
Ingredients:
2 3/4 - 3 pounds butternut squash
3 tablespoons olive oil, divided
1 medium onion
1 orange bell pepper
3 garlic cloves, minced
1 teaspoon cumin
1/2 teaspoon dried thyme, or 1 1/2 teaspoons fresh thyme chopped
1/4 teaspoon nutmeg
2 cups vegetable broth
6 eggs
fresh thyme, parsley, or microgreens for garnish
salt and pepper, to taste