Homemade Chipwiches Recipe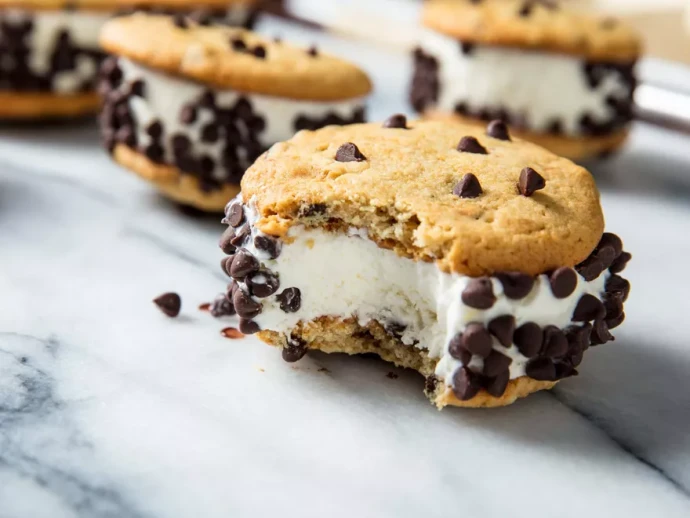 At room temperature, these cookies may seem weirdly soft and cakey, but once frozen they transform into the crunchy but tender basis for a classic twist on the ice cream sandwich.
Whether filled with creamy fior di latte gelato, your favorite store-bought ice cream, or perfectly cut wheels of no-churn ice cream, it's a frozen treat that can be customized to your heart's desire. Brown sugar keeps the cookies soft and flavorful at frozen temperatures. Malted milk powder helps the cookies taste more flavorful when frozen. Nutmeg amplifies the aroma of butter. Milk lets the cookies spread, so they're not too thick, with a texture that's crunchy (not hard) when frozen.
Ingredients:
For the Cookies
4 ounces unsalted butter, softened to about 65°F/18°C (about 8 tablespoons; 115g)
4 1/2 ounces light brown sugar (about 1/2 cup, firmly packed; 125g)
1/2 ounce malted milk powder, such as Carnation or Hoosier Hill Farms (about 2 tablespoons; 14g)
1 teaspoon (4g) Diamond Crystal kosher salt; for table salt, use about half as much by volume or the same weight
3/4 teaspoon baking soda
Pinch nutmeg
6 1/2 ounces all-purpose flour, such as Gold Medal (about 1 1/2 cups minus 1 tablespoon; 185g)
1/2 ounce vanilla extract (about 1 tablespoon; 15g)
4 ounces milk, any percentage will do (about 1/2 cup; 115g)
2 ounces bittersweet mini chocolate chips, (about 1/4 cup; 55g), plus more for garnishing
For the Filling:
1 recipe Homemade Klondike Bar Filling, prepared and frozen as directed
Or 1 recipe Fior di Latte Gelato (eggless)
Or about 1 quart of commercial vanilla ice cream
Additional mini chips, as needed