Monterey Chicken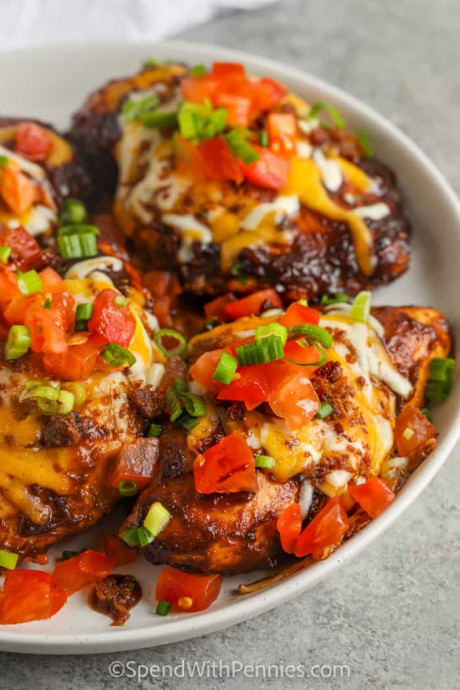 This Chili's copycat recipe has tender, juicy chicken breasts baked in a tangy bbq sauce and topped with cheese, bacon, and tomatoes! Monterey chicken is so popular is the perfect combination of southwestern bbq flavors.
No need to fire up the grill for that savory, baked-in flavor. One dish means easy cleanup, too.
This homemade version is even better because the chicken is thicker and juicy (but it won't break the bank!).
A quick main dish, it goes from the oven to the table in less than 35 minutes total. Perfect for last-minute company or when the budget is tight.
Monterey chicken is a waist-watching, health-conscious meal prepper's delight.
Make in advance and use for Chicken Burritos, Chicken Taquitos (baked or fried), in a sandwich, on top of a salad, topped on a mound of garlic mashed potatoes, or served casserole-style over Spanish Rice.
Ingredients:
4 chicken breasts skinless & boneless
1 cup bbq sauce
salt and pepper to taste
1 cup cheese shredded
½ cup tomatoes diced
¼ cup bacon bits
2 green onions sliced