Baked Chickpea Sweet Potato Curry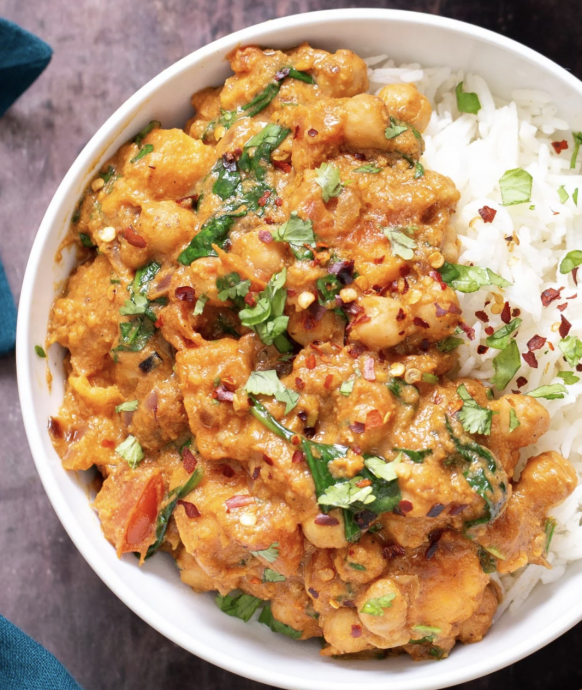 Baked Chickpea Sweet Potato Curry – a one-pot wonder made in one casserole dish. So easy to make, so perfect for a quick weeknight dinner. No standing around sautéing needed! Glutenfree, soy-free, nut-free option.
I've been loving making curries in a casserole dish. It's hands free and less active time! Today is this creamy Chickpea Sweet Potato curry. Unbelievably easy to make, comforting, and 1 Pan! Are you loving these casserole dishes?!
The chickpeas' meaty texture really shines in this baked curry – all tender and enveloped in the rich, creamy sauce. Baked cubed sweet potatoes add substance and act as sponges to soak up all the delicious curry gravy.
The gravy of this baked curry is made with coconut milk and enriched with peanut butter. Peanuts in savory dishes are amazing, trust me! And don't worry. It won't be too overwhelmingly sweet but perfectly balanced by the hum of garlic and ginger, the fragrant spices and the acidity of the tomatoes.
Ingredients:
2 teaspoons oil
1/2 cup chopped onion
2 cloves of garlic minced
1 teaspoon minced ginger
2 teaspoons ground coriander
1 teaspoon ground cumin
1 teaspoon paprika
1/4 teaspoon cinnamon
1 tablespoon curry powder or berbere spice or dry harissa spice or 2 teaspoons garam masala
1/4 teaspoon black pepper or cayenne or omit for less heat
1/2 teaspoon salt
15 ounce (425.24 g) diced tomatoes with their juices or 1 cup chopped and 1 cup pureed
15 ounce (425.24 g) can chickpeas drained or 1 1/4 cup of cooked chickpeas
10 ounces (283.5 g) cubed sweet potatoes or about 2 1/2 cups , use other veggies such as potatoes, cauliflower, butternut squash, zucchini or a combination for variation
1 cup (250 ml) coconut milk (use the whole 14 oz can for saucier) , see notes for subs
2 tablespoons peanut butter or almond butter or sunflower seed butter for Nutfree
1/4 cup (60 ml) water
2 cups well-packed fresh baby spinach or 1 cup frozen spinach thawed
cilantro pepper flakes, and lime juice for garnish