Balsamic Honey and Mustard Pork Chops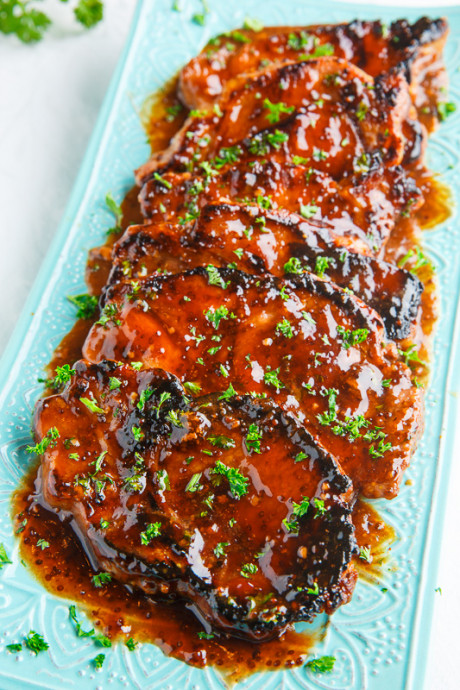 Juicy pork chops in a tasty balsamic, honey and mustard sauce with a hint of blackberries that are so quick and easy to make and so tasty that you'll be making them all the time!
For todays recipe I use what I sometimes feel is an under appreciated ingredient, pork chops, and these balsamic honey and mustard pork chops are far from ordinary and certainly not boring! The pork chops are marinated in a tasty sauce that starts with the classic honey and mustard flavour combo to which balsamic vinegar is added along with garlic, soy sauce and sriracha for some heat. The 'secret' ingredient in the sauce is some blackberry jam which adds a hint of fruitiness and since you can change the flavour of the jam whenever you want you get a completely new dish each time.
To make these pork chops, you just need to marinate them in the sauce, cook then in a pan (or on the grill) and then cook the remaining marinade down into a thick and tasty sauce to serve over the chops. Not including the marinating time this recipe takes less that 20 minutes to make so if you marinate in the morning then dinner is ready in less than 15 minutes at night! I've made these balsamic honey and mustard pork chops so many time recently and I'm sure that they will become a staple in your meal rotation!
Ingredients:
1 pound pork chops
1/4 cup balsamic vinegar
1/4 cup honey
1/4 cup blackberry jam
2 tablespoons dijon mustard
1 tablespoon sriracha (or to taste)
1 tablespoon soy sauce (or tamari or omit for gluten-free)
2 cloves garlic, chopped
1 tablespoon oil