Beef Pot Pies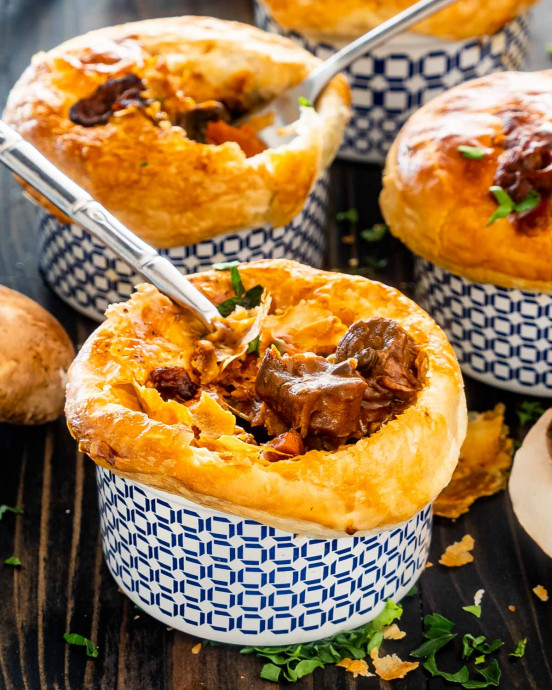 These delicious mini Beef Pot Pies are filled with lots of cubed beef, mushrooms, onions, carrots and topped with flaky puff pastry then finally, they're baked to perfection! They're incredibly delicious, total comfort food perfect for a special occasion or any time of the year!
If you're craving comfort food, these beef pot pies are pure perfection! Not only are they super cute and the perfect portion size, but these pot pies are filled with the most delicious beef and mushroom stew. With the creamy beef pot pie filling, hearty vegetables and flaky puff pastry, you end up with a perfect bite every single time.
My favorite part of these pot pies though is that they really are quite easy to throw together making them perfect for a weeknight meal. You can also make the stew ahead of time then just bake them right before dinner. Completely Homemade. You have to love a meal made completely from scratch with one secret ingredient: puff pastry!
Perfect For Make-Ahead. Make the stew over the weekend and during the week when you're ready to serve them, simply top them with puff pastry and bake for a completely delicious meal.
Cozy And Full Of Flavor. Every bite is loaded with melt in your mouth beef and mushroom stew, the true definition of comfort food!
Ingredients:
3 tablespoons vegetable oil
2 pounds beef stew meat or chuck roast cut into small chunks
salt and pepper to taste
1 medium onion roughly chopped
2 medium carrots peeled and cut into ½ inch pieces
4 ounce cremini mushrooms slicked
2 tablespoons tomato paste
3 cloves garlic minced
½ cup Guinness or any dark Irish stout
3 tablespoons all-purpose flour
1½ cups beef broth low sodium
1 beef bouillon cube
2 tablespoon Worcestershire sauce
1 teaspoon sugar
½ teaspoon dried thyme
1 bay leaf
1 cup frozen peas
2 puff pastry sheets
1 egg beaten, for egg wash