Vegan Eggplant Parmesan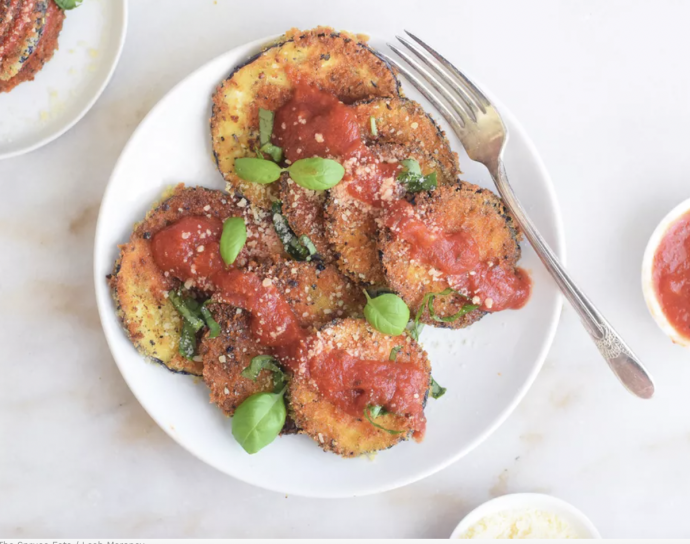 Eggplant parmesan, or parmigiana di melanzane in Italian, is a traditional southern Italian entrée that may have originated in Naples. This scrumptious vegan variation uses soy cheese for the cheesy breadcrumb-crusted topping that's a signature of the dish, but you can swap it for nutritional yeast if you like. Most panko is vegan, but make sure to check the brand you're using to confirm.
It is crispy, tender, and slathered in a delicious marinara sauce while still being completely dairy-free and egg-free. Serve with pasta, crusty bread, or a green salad for a filling meal. Adults and kids alike will love this dish.
For the Eggplant:
1 large eggplant
3 tablespoons kosher salt, divided
1/2 cup all-purpose flour
3 teaspoons freshly ground black pepper, divided
1/2 cup unsweetened plain almond milk
1 teaspoon flaxseed meal
1 teaspoon cornstarch
1 cup panko breadcrumbs
1 teaspoon dried oregano
1 teaspoon dried basil
1 teaspoon nutritional yeast
1/4 cup olive oil
For the Marinara Sauce:
2 cloves garlic, minced
1 (28-ounce) can crushed tomatoes with basil
1 teaspoon salt
1/4 cup vegan Parmesan cheese