Chocolate Coconut Bundt Cake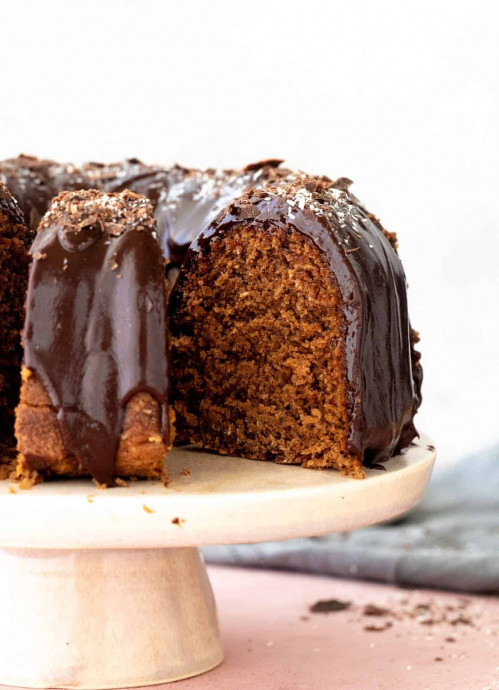 This is a lovely one-bowl cake that I adapted from a very old cookbook I was about to give away. It's super easy to make, tender, and both flavors come through without them overpowering each other. The glaze has coconut cream and is phenomenal on its own. Not too sweet, with enough coconut and chocolate flavors, this is a great cake for an afternoon tea or snack if you like the chocolate coconut flavor combo. We love to make it for Easter.
Did I mention it's a one-bowl recipe? Simply dump the ingredients in a bowl and beat for a few minutes. You're welcome. Just sweet enough: it's not a very sweet cake. You can up the sweetness by using some milk chocolate in the frosting, half of each type of chocolate.
One bowl easy: it has oil (instead of butter) and it's simply a matter of beating the ingredients together in a large mixing bowl for a few minutes.
Freezes well: you can make it ahead and freeze it (unfrosted and well wrapped) until ready to serve.
Ingredients
For the cake:
4 oz semisweet chocolate, melted (see Notes below)
2 cups (260g) all-purpose or cake flour (not self-rising)
1 ½ teaspoons baking soda
½ teaspoon baking powder
½ teaspoon salt
1 ½ cups (300g) packed brown sugar (I use dark but light also works)
¾ cups buttermilk, at room temperature
½ cup coconut milk, at room temperature
½ cup vegetable oil, at room temperature
1 teaspoon pure vanilla extract
3 eggs, room temperature
1 cup (60g) unsweetened shredded coconut
For the ganache:
1 cup coconut cream (regular, full fat)
8 oz semisweet chocolate, chopped
¼ cup brown sugar
1 tablespoon runny honey or corn syrup