Ethiopian Inspired Mushroom Tibs Stir-Fry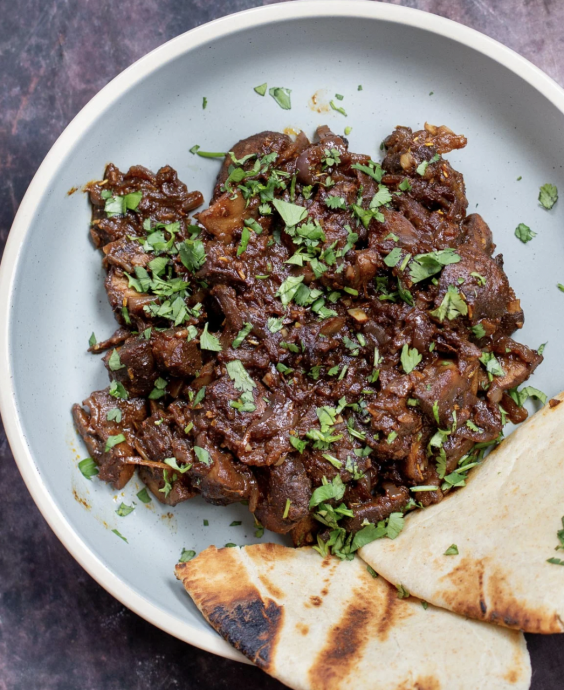 This Ethiopian mushroom tibs stir-fry has so much amazing flavor!! Mushrooms onions sautéed with Berbere spice, coriander, cardamom, rosemary and red wine or balsamic! Flavor central! Gluten-free, Nutfree, Soyfree and low carb! Serve with injera bread, flatbread and a side salad.
The meatiness of button mushrooms makes them a great substitution here. They withstand sauces while maintaining some texture. Any mushrooms like portabella, white, cremini or other thick mushrooms will work.
Berbere spice blend is a deeply earthy-meaty-umami- spicy blend. The key ingredients are usually red chili peppers, fenugreek, and ginger. The heat from the chili comes after you have eaten a couple of bites and I would call this mushroom dish very moderately spicy. Depending on the brand the spicy ness varies. if you'd like less heat, start with less and add more if needed.
Ingredients:
1 tablespoon oil
1 cup (160 g) thinly sliced red onion
4 cups (385 g) chopped mushrooms
1/2 teaspoon dried rosemary
For the sauce:
2 teaspoons berbere spice blend , see notes to make your own
1 teaspoon paprika
2 cloves minced garlic
1 teaspoon ground coriander
1/2 teaspoon ground cardamom
a good pinch each of cinnamon, clove and nutmeg
1/4 teaspoon onion powder
2 tablespoons red wine or use 1 tablespoon balsamic vinegar
1/4 cup (60 ml) water
1/2 teaspoon salt