Try Shahi Tukda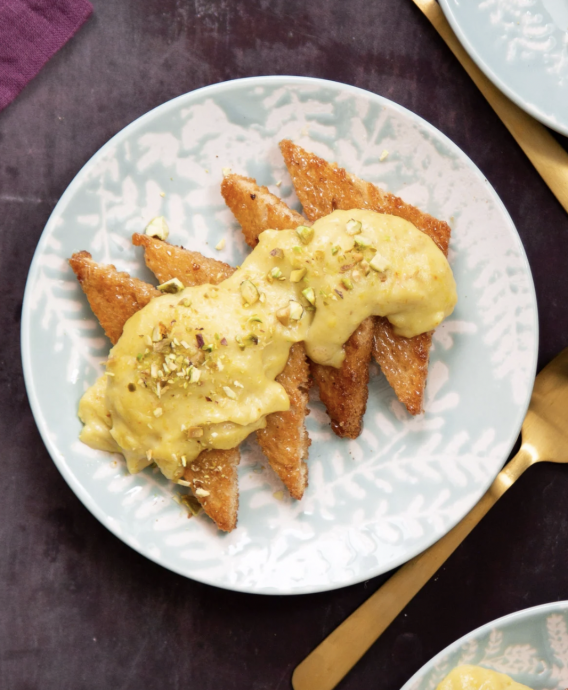 Try Shahi Tukda – a royal dessert that is easy to whip up! Baked buttered slices of bread soaked in cardamom-scented syrup and topped with vegan cashew saffron Rabri custard.
Shahi Tudka – I think of this as a Royal French toast. But it's actually more of a dessert than a breakfast food. It's a sweet Mughlai dessert often made by frying bread in ghee (clarified butter) or oil, then soaked in a cardamon scented sugar syrup then topped with Indian Rabri. The Rabri which is a saffron scented thickened milk pudding can be made thick or thin and the bread soaked in it completely or served with the Rabri topping.
In this Vegan version and my lighter take of shahi tukda, I bake the bread. Baking toasts the bread evenly. You can use a toaster too, but the bread doesn't toast evenly or fry out enough and can get soggy quickly that way. I make a thick custard like Rabri with all the same delicious flavors and assemble and serve.
Ingredients:
6-8 slices your favorite bread the edges removed and sliced into shapes that you prefer
2-3 teaspoons oil or melted vegan butter
For the sugar syrup
2 tablespoons maple syrup
2 tablespoons sugar
1 green cardamom pod opened or 1/8 teaspoon ground cardamom
1 tablespoon water
½ teaspoon lime juice
For the Rabri custard
3 tablespoons cashews
1 teaspoon all purpose flour or use a gf blend
3 tablespoons sugar
7 strands saffron
1 ½ cups (350 ml) oat milk
2 tablespoons almond flour
2 tablespoons crust of the bread slices that you sliced earlier omit for Glutenfree
chopped pistachios for garnish