Butternut Squash Ravioli With White-Wine Sauce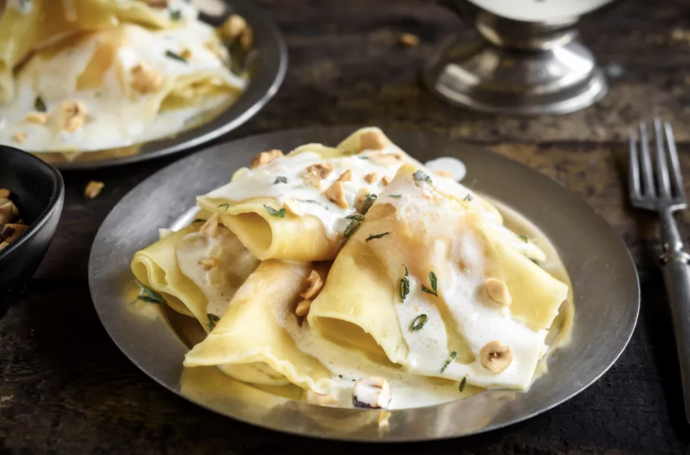 Although it might sound elaborate, making ravioli at home can be a fun family project, especially if you follow the clever shortcut of using wonton wrappers as pasta dough. Even if fresh pasta is a delicious treat, it's also a time-consuming endeavor, but our recipe can put these decadently fall-flavored ravioli on your table in a little over one hour. Sweet butternut squash, hazelnuts, and a delicious creamy white wine sauce make the perfect dinner, a beautiful recipe for a celebratory occasion or for a weekend family meal.
Because there are a series of steps in making the ravioli, and you're certainly going to love these, double the recipe and make more to store and freeze for later—freeze horizontally on a baking tray once they are formed but before boiling, and transfer to freezer bags once they are hardened enough. Serve the ravioli with roasted vegetables, Brussels sprouts, or broccoli rabe and a loaf of crusty Italian bread. For a vegetarian-friendly recipe, replace the chicken broth with vegetable broth.
Ingredients
For the Filling:
1 medium butternut squash
1 tablespoon olive oil
2 to 3 tablespoons water
1 tablespoon unsalted butter, softened
6 tablespoons minced shallots, divided
1/4 teaspoon kosher salt
1/4 teaspoon freshly ground black pepper
3 tablespoons heavy cream
4 tablespoons grated Parmensan
1 pinch nutmeg
For the Ravioli
1/2 cup all-purpose flour, for dusting
48 to 50 wonton wrappers
1 large egg, beaten with a teaspoon of water
For the Sauce
5 tablespoons cold unsalted butter, divided
1/2 cup dry white wine
1/2 cup heavy cream
1/2 cup chicken broth
1 tablespoon freshly squeezed lemon juice
2 tablespoons minced fresh sage