Garlic Butter Steak and Potatoes Skillet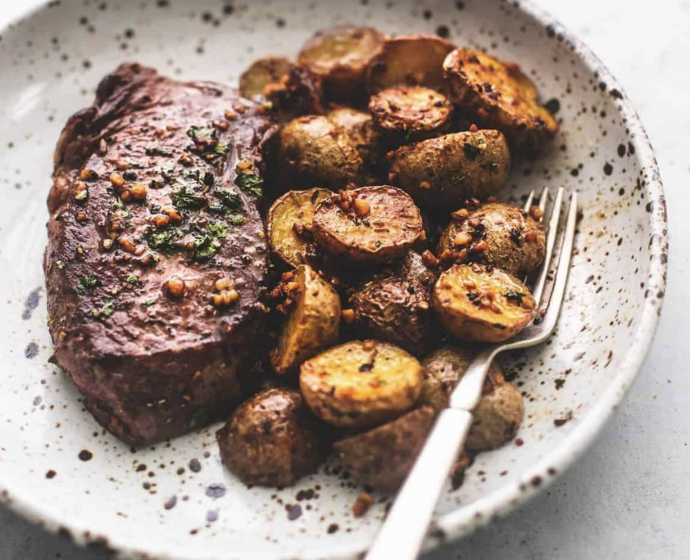 Easy Garlic Butter Steak and Potatoes Skillet with juicy seared steak and crispy roasted potatoes all oven baked in one pan. Nothing goes together better than garlic steak and potatoes!
Though this dish is plenty filling on its own, I do often add a veggie with it. Some of my favorite, easy sides that go with steak and potatoes are: On heavy rotation at my house, these Roasted Brussels Sprouts With Parmesan and Balsamic are super easy and super delicious. Nothing beats a simple tossed salad. Easy to customize, easy to throw together with whatever ingredients you have on hand. And, of course, easy clean up! You can bake these Parmesan Green Beans right alongside your meat. I hadn't met one single beet I enjoyed until I tried them roasted and paired with goat cheese, then I never went back to my old beet-hating self. Honey Brown Sugar Roasted Carrots are another easy dish that everyone in my house loves, and they go so well with steak and potatoes.
Ingredients:
2-4 petite steaks - see note
salt and pepper to taste
garlic powder to taste
1 tablespoon olive oil
2-4 pounds baby potatoes - diced
2-6 tablespoons salted butter - soft enough to mash with a fork, one tablespoon per steak, plus two tablespoons for the potatoes
2 teaspoons minced garlic
1 teaspoon dried Italian herb blend
1 teaspoon chopped fresh thyme
1 teaspoon chopped fresh parsley