Lahmacun Turkish Pizza (Armenian Lahmajun)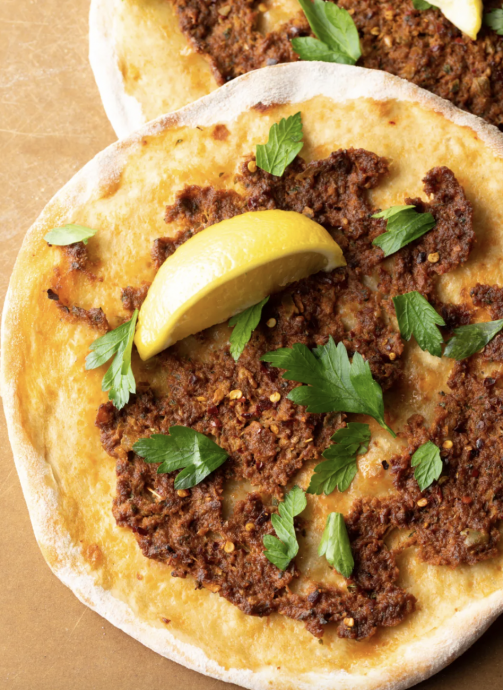 Easy Lahmacun (Lahmajun) Recipe – Tasty Turkish and Armenian-style pizzas are simple to make with flavorful ground beef and spiced tomato base. They're a great dairy-free option for your next pizza party!
Lahmachun – also known as lahmajun or lahmajoun – is a unique Middle eastern street food, popular in both Turkey and Armenia. This cheese-less "pizza" for lack of a better description, is a thin piece of round bread baked with a layer of ground meat and spices spread over the top.
Our easy Turkish Pizza recipe can be made with fresh or frozen (and thawed) pizza dough in just over 30 minutes from start to finish. And it's perfect to customize with your favorite extra toppings… Lahmajun is a dairy-free snack you can enjoy as-is, or with a fresh chopped middle-eastern salad over the top! Serve lahmacun warm or at room temperature with a sprinkling of parsley or mint and a lemon wedge.
You can also serve Turkish pizza as a complete meal on a single edible plate – simply add a Middle Eastern style chopped salad with fresh parsley, onion, and tomato on top!
Ingredients:
2 pounds fresh pizza dough or frozen dough balls, thawed
1 pound ground beef or lamb
1 green bell pepper seeded and chopped
1 cup chopped onion
3 cloves garlic
1/3 cup tomato paste
¼ cup fresh chopped parsley
2 tablespoons fresh mint leaves
2 teaspoons anchovy paste
2 teaspoon smoked paprika
1 teaspoon ground cumin
1 teaspoon salt
Crushed red pepper optional
Garnish: extra parsley mint, and lemon wedges.