Italian Hot Dog Recipe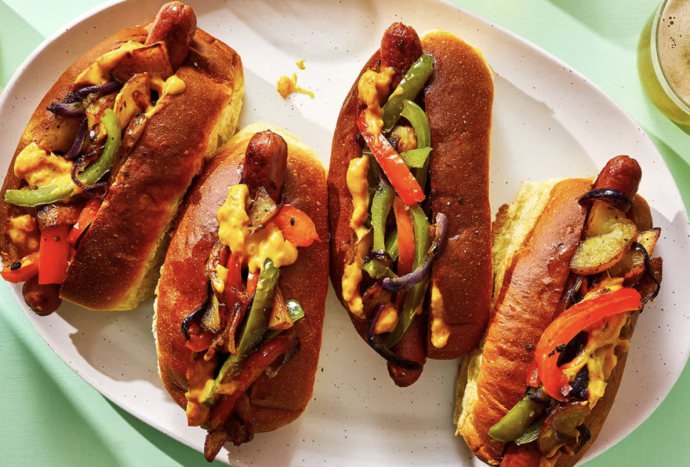 Italian hot dogs are a New Jersey specialty made famous by Jimmy "Buff" Racioppi and his wife Mary. In the early 1930s, Mary Racioppi made the first Italian hot dogs and served them to Jimmy and his friends. The special hot dogs were so popular with their friends, that they opened a restaurant, "Jimmy Buffs," featuring the hot dogs.
The topping ingredients make these Jersey dogs unique. Depending on the restaurant, a New Jersey Italian hot dog may be served in Italian rolls or "pizza bread," which is essentially a round loaf, similar to muffuletta bread, made with pizza dough. The rolls—or quartered round loaves—are filled with hot dogs, fried potatoes, onions, and bell peppers. Grilled hot dogs are featured in this version, but feel free to steam, sauté, air-fry, or deep-fry them.
The fried potatoes and peppers make these hot dogs a dish you could serve for any meal—breakfast, lunch, or dinner! The hot dogs are perfect for a party or tailgating event or add them to your Memorial Day or July 4th menu. For side dishes, consider serving them with a tossed salad or coleslaw. Even though they contain potatoes, you might like some chips or sweet potato fries on the side.
Ingredients:
Vegetable oil, for frying and for the grill
6 all-beef hot dogs
1 1/2 pounds potatoes, quartered and sliced crosswise
1/2 teaspoon kosher salt, or to taste
1 medium onion, sliced
1 medium green bell pepper, cut into thin strips
1 medium red bell pepper, cut into thin strips
1 teaspoon Italian seasoning
1/4 teaspoon freshly ground black pepper, or to taste
4 tablespoons spicy brown mustard, more as needed
6 large hot dog buns, torpedo rolls, or pizza bread, toasted if desired