Kung Pao Chicken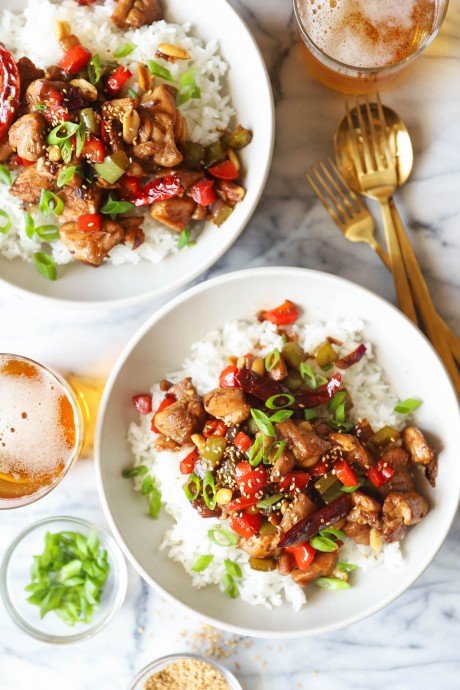 Everyone's favorite chicken stir-fry made so easily right at home! Slightly salty, sweet, sour + spicy. A winning combo!
Kung pao chicken. A takeout favorite I actually really like to make at home with all of the best flavors rolled into one – a little bit salty, sweet, sour and spicy.
This dish is absolutely restaurant-quality, and you can adjust the heat level to your liking – whether you want some extra spice in your life or you want it toned down a bit for the little ones. It is all good.Serve with a bowl of rice, garnished with some green onions and sesame seeds. You'll be shocked to see how much better it tastes than takeout!
Ingredients
1 ½ pounds boneless, skinless chicken thighs, cut into bite-size pieces
2 tablespoons Shaoxing wine
2 teaspoons cornstarch
3 tablespoons reduced sodium soy sauce, divided
2 tablespoons canola oil, divided
1 cup diced green bell pepper
1 cup diced red bell pepper
1 cup diced red onion
6-8 dried arbol chiles, stemmed and seeded
3 cloves garlic, minced
1 tablespoon freshly grated ginger
½ teaspoon Sichuan peppercorns, crushed
1 ½ tablespoons rice wine vinegar
1 tablespoon brown sugar
⅓ cup cocktail peanuts
2 green onions, thinly sliced
½ teaspoon toasted sesame seeds