Old Fashioned Blueberry Pudding with Rosewater Sauce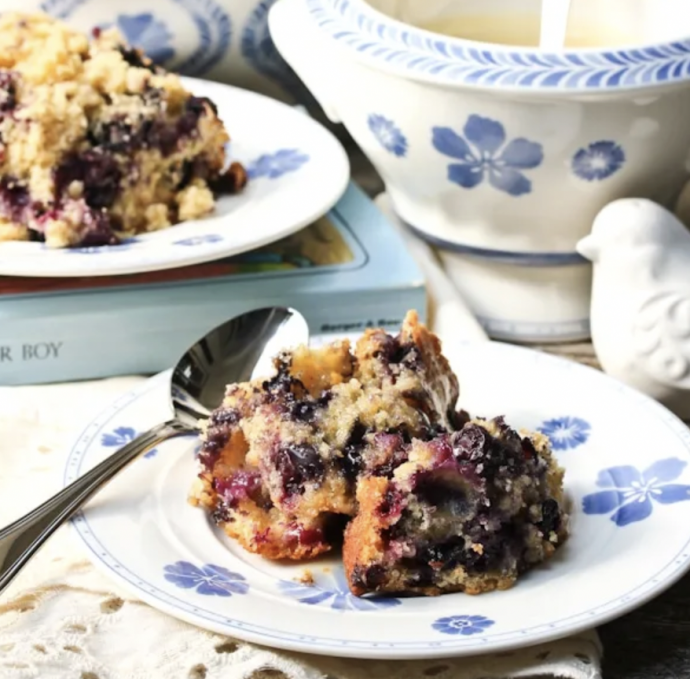 This Old Fashioned Blueberry Pudding with Rosewater Sauce is inspired by the blueberry pudding Almanzo's mother made after a long day of berrying in the book Farmer Boy. I didn't use the exact recipe in the cookbook, because it was developed before most homes had reliable ovens. Therefore, it was cooked in a tin can submerged in water on the stovetop.
This oven-friendly "pudding" is not a custard as we think of pudding in the United States; it's more of a British-style hefty cake that you scoop up with a spoon. It's dense, hearty, and not overly sweet, with a cornbread-like consistency. A pudding of this variety would have been served with milk, or a sweet sauce, poured over the top to moisten it.
Although rosewater is now generally considered a middle-eastern ingredient, it was widely used for flavoring in early American days, because people could make it easily from wild roses.
Admittedly, I've tried rosewater in several dishes and beverages and haven't been impressed, but the combination of rosewater, nutmeg, and butter in this silky sauce is exquisite. Poured over the rustic and tart blueberry pudding… sigh. I honestly could not get enough of it!
Ingredients:
For the Old Fashioned Blueberry Pudding:
5 tablespoons butter divided
3 1/2 cups all-purpose flour
1 1/2 cups granulated sugar
5 teaspoons baking powder
1 teaspoon cinnamon
1/2 teaspoon salt
1 2/3 cups milk
2 eggs
2 pints blueberries
For the Rosewater Sauce:
2 cups powdered sugar
1 pinch salt
1/4 teaspoon nutmeg
4 tablespoons rosewater
6 tablespoons melted butter
1/2 teaspoon vanilla extract