Italian Tomato and Bread Soup (Pappa Al Pomodoro)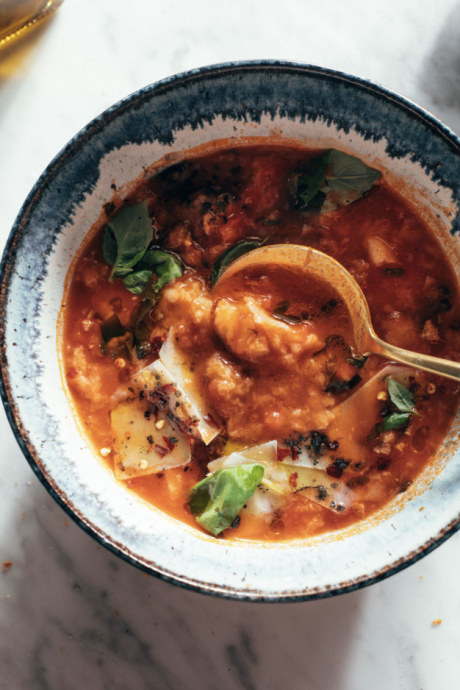 Italian tomato and bread soup is actually born of a time when it was the worst possible crime to let a single bit of bread go to waste, even if it's a stale one. So traditionally, it's made with very stale Tuscan bread, ideally left out for several days. Tuscan bread specifically is made without salt (which dates back to the 12th century when trade lines were cut off to Florence making salt super expensive!) and that meant the bread went stale rather quickly. Thus, this soup, and other delicious things like panzanella salad, was a way to turn stale bread into.
Though you might get a little side-eye from any Tuscan, especially around Florence and Siena, for adding anything but basil, garlic, tomatoes, bread, and olive oil to this soup, there are certainly ways you can play around with it! We added Parmesan to ours and it was delicious.
But if you're already breaking soup laws, here are some other things to try:
hefty shakes of crushed red peppers for spice
some diced onion or carrot/onion/celery
oregano
a dollop of ricotta
Ingredients:
3 tablespoons extra virgin olive oil
3 cloves garlic, smashed or thinly sliced
one 28-ounce can whole peeled San Marzano tomatoes
1 teaspoon kosher salt
Freshly ground black pepper to taste
4 cups vegetable or chicken broth
1/4 cup packed fresh basil, chopped or torn
2–3 cups dry bread, torn or cut into cubes (see notes) a dream of a dish.