Lobster Bisque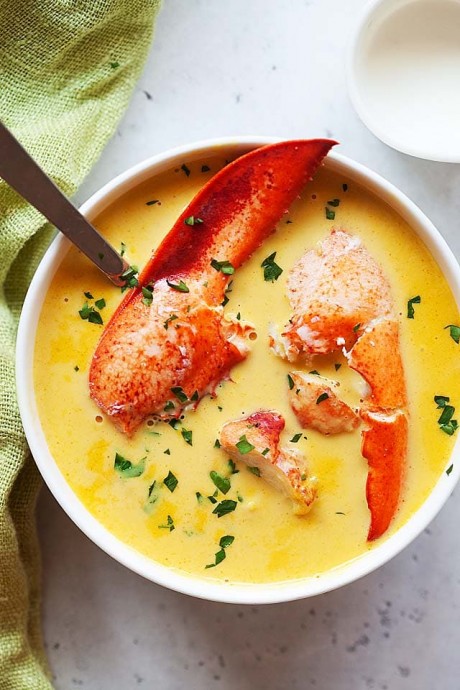 Rich and creamy lobster bisque loaded with lobster. This the best lobster bisque recipe that you can make at home, so easy, delicious, much better and cheaper than restaurants!
Losbter bisque soup is one of the most popular seafood soups in haute French cuisine, found in gourmet seafood and fine dining restaurants. Bisque is a rich and creamy soup made of crustaceans stock, commonly from lobster and shrimp even though crawfish, crab and langoustine can be used.
In this easy recipe, you are going to learn how to make this scrumptious soup just like French chefs, with simple ingredients.This soup is absolutely delicious and full of rich and deep flavors of lobsters.This lobster bisque soup also feeds four people in your family at a fraction of restaurant's bill.Serve this soup with French baguette or other seafood dishes. For a restaurant-style meal, serve with fresh baguette, mashed potatoes, veggies, crab legs with garlic lemon butter, or filet mignon.
Ingredients:
3 small lobsters, 1 1/2 lbs each
4 cups lobster stock
4 tablespoons unsalted butter
4 oz onion, peeled and diced
4 oz carrot, peeled and diced
4 oz tomato, diced
1/2 cup white wine or Japanese cooking sake
2 tablespoons brandy or sherry, optional
1/4 teaspoon turmeric powder
5 bay leaves
10 Italian parsley sprigs, no leaves
3/4 cup whipping cream
1/2 teaspoon salt or to taste
Freshly ground black pepper
3 heavy dashes cayenne pepper
1 tablespoon Japanese mirin sweet rice wine, optional
1 tablespoon corn starch + 2 tablespoons water
1 tablespoon chopped Italian parsley leaves