Chicken and Asparagus Orzo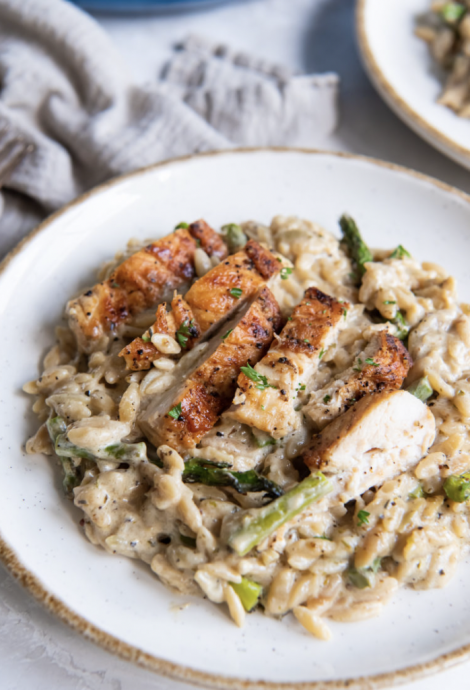 Creamy orzo is stuffed with tender pieces of asparagus and topped with juicy chicken in this easy dinner recipe. Chicken and Asparagus Orzo will be a new favorite weeknight meal! When it comes to weeknight cooking, quick and easy pasta dinners are one of my fallbacks. This creamy orzo with asparagus and chicken is the latest in a long line of delicious pasta dinners. (Yes, orzo is a type of pasta and not a grain!)
Unlike most pastas, there's no need to boil a separate pot of water to cook the orzo in. The orzo cooks in the ingredients that eventually become the creamy pasta sauce for this recipe. Win!
I love preparing this creamy chicken orzo with asparagus, but you're welcome to use most any seasonal veggie you have on hand. This is an easy recipe to customize if you get home from work and realize you're out of one or two ingredients!
If you're a fettuccine alfredo fan or love creamy risottos, you're going to love this orzo recipe. Different cooking method and pasta shape, similar flavor!
Ingredients:
Chicken:
2 tablespoons olive oil
2 medium boneless skinless chicken breasts
2 teaspoons garlic powder
Salt and pepper (to taste)
Asparagus:
1 bundle fresh asparagus, chopped (roughly 1 cup)
2 tablespoons olive oil
1 teaspoon garlic powder
1 teaspoon Italian seasoning
Salt and pepper (to taste)
Orzo:
2 cups dry orzo
2 cups low-sodium chicken broth
2 cups half-and-half (or heavy cream for more richness)
2 teaspoons Italian seasoning
1 teaspoon garlic powder
Salt and pepper (to taste)
1 cup grated Parmesan cheese