Vegan Apple Spice Cupcakes With Buttercream Frosting Recipe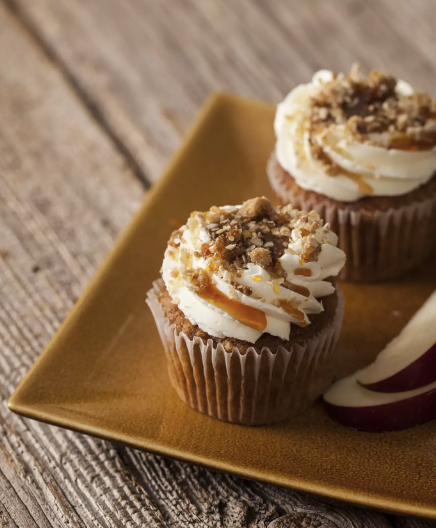 Freshly caramelized apples, cinnamon, vanilla, and lemon come together to make these vegan cupcakes flavored with all things fall. Use a piping bag to pipe generous peaks of vegan buttercream on top, and add a dash of cinnamon and a few caramelized apples as garnishes to your seasonal sweets.
Note: This recipe is suitable for dairy-free, egg-free, and vegan diets, but as with any recipe intended for persons with allergies or dietary restrictions, make sure to read all nutritional labels carefully to make sure that there are no hidden dairy-derived ingredients (or other allergens if these apply to you).
Ingredients
2 large apples, any firm variety like Granny Smith, Braeburn, etc.
2 tablespoons soy margarine
3 tablespoons brown sugar
1 1/2 cups all-purpose flour
1 1/2 teaspoons baking soda
3/4 teaspoon baking powder
1/4 teaspoon sea salt
2 teaspoons ground cinnamon
1 cup almond milk, coconut milk, or another dairy-free milk alternative
2 tablespoons lemon juice
1/3 cup canola oil, or nut-based oil such as macadamia oil
3/4 cup sugar
2 teaspoons pure vanilla extract
Vegan buttercream frosting, to taste