Arugula and Wild Rice Salad with Zippy Lemon Dressing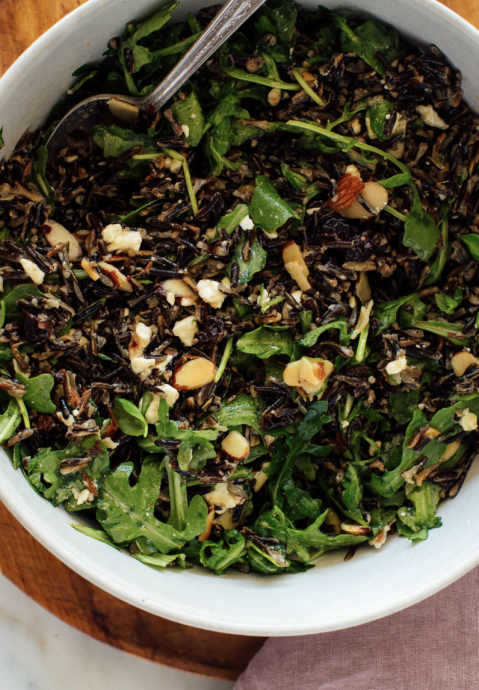 Have you tried wild rice in your salads yet? I'm hooked! Wild rice is chewy, nutty, and hearty. It's high in protein and B vitamins, and adds a strong backbone to healthy green salads.
This salad is wholesome and filling, with plenty of bold arugula and bursts of flavor in the form of toasted almonds, creamy feta, dried tart cherries and fresh basil.
To make this salad in advance: You'll want to cook the wild rice beforehand, at minimum. You could also whisk together the dressing, and compose the salad (don't toss it with the dressing until you're ready to serve). Store any components in the fridge, covered, for up to two days.
Ingredients:
Salad
1 cup wild rice, rinsed
½ cup sliced almonds
1 teaspoon olive oil
5 ounces arugula (about 5 packed cups)
½ cup coarsely chopped fresh basil (from one ⅔ ounce container)
½ cup dried tart cherries or cranberries, chopped
½ cup crumbled feta or goat cheese (about 2 ounces)
Lemon dressing
¼ cup olive oil
2 tablespoons lemon juice (from 1 medium lemon), to taste
2 teaspoons Dijon mustard
1 teaspoon honey or maple syrup
1 medium clove garlic, pressed or minced
¼ teaspoon fine sea salt, to taste
Freshly ground black pepper, to taste