Slow Cooker Beef Brisket with BBQ Sauce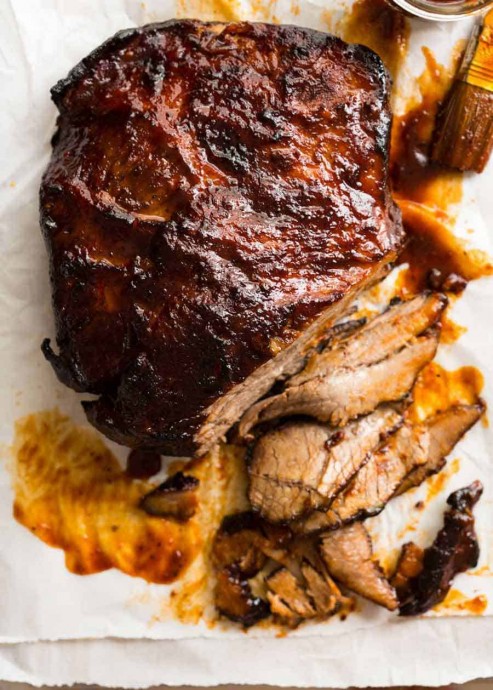 To-die-for Beef Brisket recipe that really makes the most out of this cut of beef! This Slow Cooker brisket is cooked in a simple homemade BBQ sauce until it's deliciously tender and infused with incredible flavor.
Brisket is a cut of beef made for slow cooking, not fast cooking. It's unique characteristic compared to other slow cooking cuts of beef is that it holds its shape even after hours and hours of slow cooking and can be sliced. It's a straight forward beef brisket recipe though there is a fairly long list of spices because we're making a homemade rub and homemade BBQ Sauce here. Totally worth it – there's no bottled sauce that compares to this!
For this particular recipe, I'm keeping this Slow Cooker Beef Brisket whole and slicing it. Serve up a hearty Southern style supper with sides Baked Beans, Corn Bread, Creamy Corn Casserole, classic creamy Coleslaw or this No Mayo Coleslaw (it's excellent!), Macaroni Salad, Potato Salad or mashed potato. Or pile it onto sliders – this is the way I usually serve it because brisket is a perfect recipe for feeding a crowd!
Ingredients:
1.5 – 2 kg / 3 – 4 lb beef brisket (Note 1)
1 tbsp olive oil (or a neutral oil like vegetable, canola)
1 tbsp brown sugar
2 tsp paprika powder
1 tsp onion powder
1 tsp garlic powder
1/2 tsp cumin powder
3/4 tsp mustard powder
1 tsp salt
1/2 tsp black pepper
BBQ SAUCE:
2 garlic cloves , minced
1/2 cup / 125 ml apple cider vinegar
1 1/2 cups / 375 ml ketchup
1/2 cup / 110g brown sugar , packed
2 tsp EACH black pepper, onion powder, mustard powder
1 tsp cayenne pepper (adjust to taste re: spiciness)
1 tbsp Worcestershire sauce