Chocolate Pistachio Dome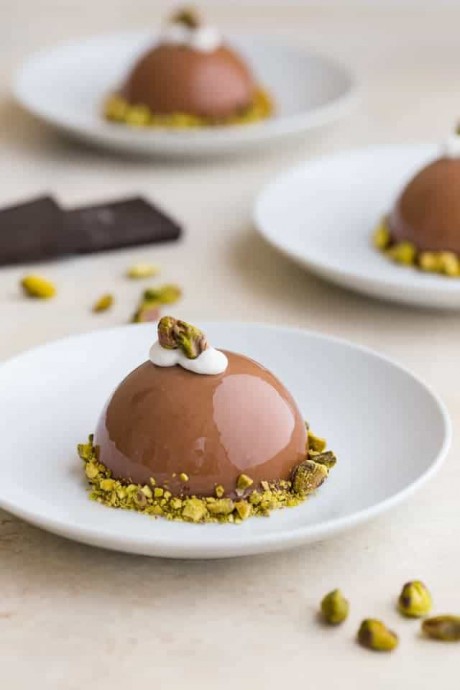 This Chocolate Pistachio Dome with Almond and Pistachio Nougatine is inspired by the elegant Chocolate Journeys dessert served onboard Princess Cruises. It features a creamy chocolate mousse dome filled with pistachio crème mousseline. The dome sits on a vanilla sable with a layer of almond pistachio nougatine in between. A mirror glaze is poured over the top of each dome for an exquisite presentation.
I recommend making all the components of the recipe a day in advance. The pastry cream for the mousseline needs to be cold before mixing in the butter. Then, the final product needs to be piped into molds and frozen for about an hour to set. While the mousseline is chilling in the freezer you should begin working on the vanilla sables and nougatine. There will some leftover nougatine once the chocolate pistachio domes are assembled. You can use it garnish the domes or save it and use it in vanilla ice cream!
The recipe has several steps but don't let all the steps scare you. They're really not complicated. Plus, each step is thorough so you can approach the recipe with confidence. This recipe is time-consuming and requires a day of prep before the domes can be fully assembled but the effort is so worth it!
Ingredients:
Pistachio Creme Mousseline
⅓ cup (80 ml) milk
½ teaspoon vanilla extract
2 tablespoons sugar
1 large egg yolk
2 tablespoons all-purpose flour
¼ cup (56 g) unsalted butter, softened
1 teaspoon pistachio extract, or almond extract - SEE NOTE 1
green food coloring
Vanilla Sable
½ cup (113 g) unsalted butter, room temperature
¼ cup (50 g) sugar
2 tablespoons confectioners' sugar, sifted
¼ teaspoon salt
1 large egg yolk
1 teaspoon vanilla extract
1 cup (130 g) all-purpose flour
Almond Pistachio Nougatine
3 tablespoons unsalted butter
1 tablespoon light corn syrup
⅓ cup (40 g) confectioners' sugar, sifted
¼ teaspoon pectin
¼ cup (30 g) shelled unsalted pistachios
¼ cup (35 g) raw almonds
Chocolate Mousse
1 cup (238 ml) heavy cream, plus ⅓ cup
½ cup (122 ml) milk
2 tablespoons sugar
2 large egg yolks
8 ounces (226 g) milk chocolate, coarsely chopped
Chocolate Glaze
¼ cup (60 ml) water, plus ¾ cup
2 tablespoons unflavored gelatin powder
1 ⅓ cups (266 g) sugar
14 ounces (396 g) sweetened condensed milk
½ tablespoon vanilla extract
12 ounces (340 g) milk chocolate, coarsely chopped
ground pistachios, for garnish
whipped cream, for garnish