Thai Salad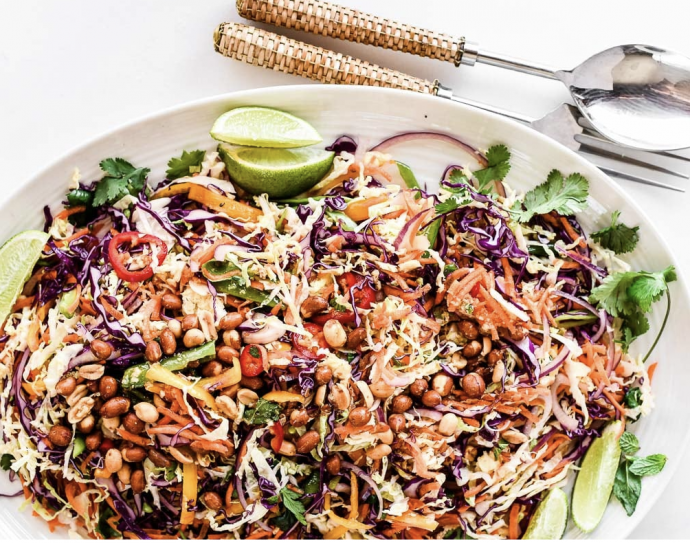 Step into the vibrant world of Thai cuisine with this Authentic Thai Salad, boasting a colorful array of healthy and fresh vegetables. This salad is not only a feast for the eyes but also a nourishing and low-calorie option, perfect for a light lunch or a refreshing side dish.
The medley of veggies includes crisp cucumbers, juicy cherry tomatoes, crunchy bell peppers, shredded carrots, and fragrant herbs, creating a harmonious blend of flavors and textures. Each bite is a delightful burst of taste and nutrition.
But what truly elevates this Thai Salad is the sweet and sour dressing that coats the veggies, infusing them with a tangy and aromatic twist. The dressing strikes the perfect balance between sweet and tart, adding a delectable contrast to the fresh vegetables.
Whether you're a fan of Thai cuisine or simply looking to add more wholesome salads to your diet, this Authentic Thai Salad is a must-try. It's a delightful journey of flavors and a celebration of vibrant, healthy ingredients, making it a winning choice for any mealtime.
Ingredients:
4 cups finely shredded Savoy cabbage*
3 cups finely shredded red cabbage
1 cup shredded carrot
1/2 cup sliced pea pods
1/2 cup julienned yellow bell pepper
1/2 cup fine slivers of red onion
1 hot pepper, thinly sliced (I used a red jalapeño)
2/3 cup snipped cilantro (+ upper stems) loosely packed
1/4 cup snipped mint leaves
DRESSING
3 Tbsp fish sauce**
3 Tbsp fresh lime juice
2 Tbsp brown sugar
1 Tbsp toasted sesame oil
1 clove garlic, crushed
1 tsp grated fresh ginger
GARNISH
1/3 cup roasted peanuts
more fresh cilantro and mint
lime wedges