Rubies: Ruby Chocolate Blondies Recipe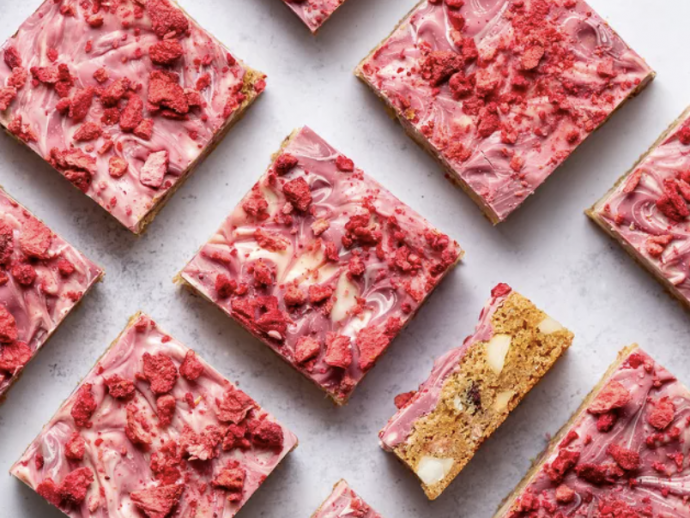 Blondies are brownies' delicious cousin, offering up buttery, brown chewiness instead of intense cocoa flavors. While many blondies include nuts and white chocolate, this variation on the classic dessert incorporates an exciting new ingredient: ruby chocolate. This slightly tart, rosy-hued chocolate pairs perfectly with the richness of a blondie—plus, the bright marbled finish on top is sure to catch everyone's eye.
These dessert bars take just minutes to whip up with no mixer required. We brown the butter first to give the bars a toasty flavor; it's a quick process, but we give directions for making it even easier in the microwave (see tips below). Macadamia nuts add crunch while freeze-dried berries and ruby chocolate add irresistible sweet-tartness.
Ingredients:
1/2 cup (4-ounces) unsalted butter, cubed, more for the pan
1 cup packed light brown sugar
1 large egg
1 1/2 teaspoons pure vanilla extract
1 cup all-purpose flour
1/2 teaspoon baking powder
1/2 teaspoon kosher salt
1/2 cup coarsely chopped macadamia nuts, lightly toasted
5 ounces ruby chocolate, finely chopped (about 3/4 cup), divided
1/2 cup lightly crumbled freeze-dried strawberries or raspberries, divided
2 ounces white chocolate, finely chopped (about 1/3 cup)