Classic Greek lamb moussaka with eggplants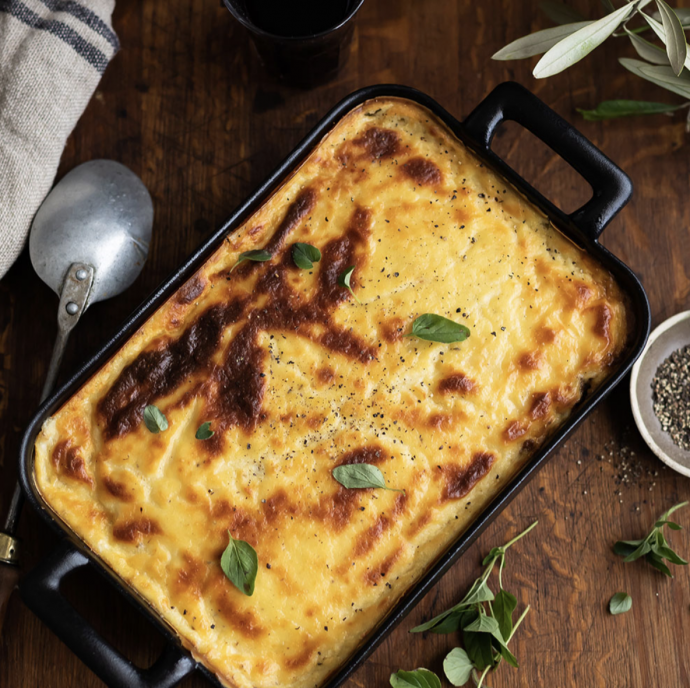 Step into the heart of Greek cuisine with a taste of the timeless and flavorful Classic Greek Lamb Moussaka with Eggplants. This iconic dish is a symphony of Mediterranean flavors that brings together layers of tender eggplant slices, rich lamb ragù, and creamy béchamel sauce. The eggplants are carefully roasted to perfection, lending a slightly smoky note to the dish. The fragrant lamb ragù, cooked with aromatic spices and tomatoes, infuses each layer with savory depth.
But the true star of the show is the velvety béchamel sauce that crowns the moussaka. Its creamy texture and delicate flavor envelop the layers below, creating a harmonious blend that's both satisfying and indulgent. This dish is not just a meal; it's an experience that captures the essence of Greek culinary heritage and the warmth of family gatherings. So take a forkful of this classic moussaka, close your eyes, and let the flavors transport you to the sun-soaked shores of Greece.
Ingredients:
Aubergine/brinjal:
2 large aubergines/brinjal, cut into medium slices (end bits discarded or repurposed) approx. 0.75cm or 1/3 of an inch
Olive oil for brushing
Meat sauce:
1 – 2 Tbsp olive oil
1 brown/white onion finely chopped
2 cloves garlic, minced
500gms lamb mince or beef mince (ground beef or ground lamb)
1 Tbsp tomato paste
1 1/2 tsp oregano
1 tsp cinnamon
1 tsp fresh thyme leaves
1 large bay leaf or 2 small
¼ cup /60ml red wine
½ cup lamb stock with 1 stock cube (or beef stock)
1 400gm tin chopped peeled tomatoes
1 ½ tsp sugar
Bechamel:
70gms butter
70gms flour
2 cups milk
¼ tsp freshly grated nutmeg
40gms Parmesan, grated
1 whole free-range egg
White pepper & salt if necessary