Garlic Black Pepper Chicken Stir Fry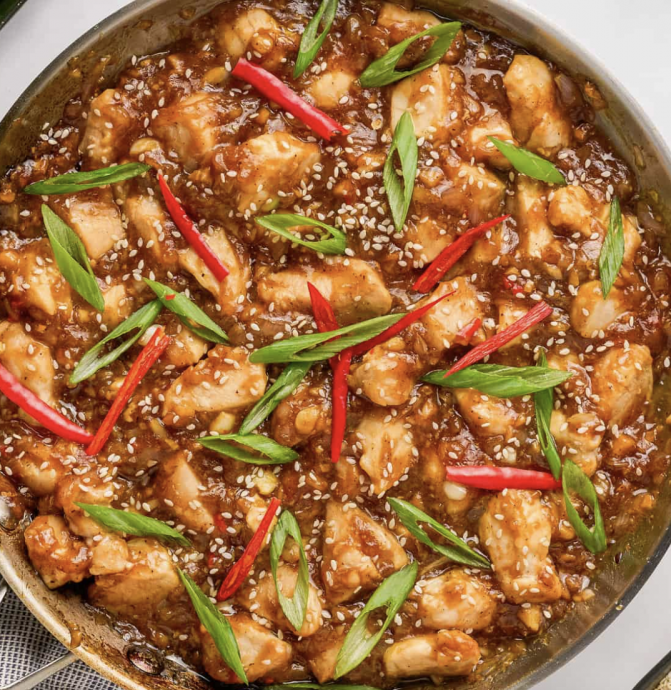 Tender chicken pieces are stir-fried and tossed in a deliciously sticky, savory, and slightly sweet sauce that perfectly coats the chicken! Made in one skillet, and ready in about 30 minutes, it's the ultimate weeknight dinner idea. Skip the takeout and make your own!
Chicken is so versatile, but can sometimes be a bit boring and lackluster in the flavor department.
But not in this recipe! The sauce that so thoroughly envelopes the chicken is the perfect blend of savory, spicy, sticky, and sweet. If you find yourself licking an excess sauce off your plate… let's just say you're not alone in that desire lol.
Our local Chinese takeout restaurants don't have a chicken stir fry with this sauce, but it definitely tastes reminiscent of a comforting box of sticky takeout chicken.
Making your own takeout stye meals is not only cost-effective, but you get to control the quality and quantity of the ingredients used.
Ingredients:
Skillet
1 1/2 lbs. boneless skinless chicken breast diced into small bite-sized pieces
4 Tbsp vegetable oil divided
1 Tbsp unsalted butter
2 small shallots finely minced
1 – 2 Thai red chile peppers minced (1 small jalapeño pepper can be substituted)
14 cloves garlic minced
2 Tbsp grated fresh ginger
Honey black pepper sauce
1/2 cup water
1/2 cup reduced sodium chicken broth
1/2 cup reduced sodium soy sauce
1/4 cup honey
1 1/4 tsp ground black pepper
1 1/2 Tbsp cornstarch
Garnishes
green onion sliced at an angle
Thai red chiles sliced
sesame seeds