Nanaimo Bars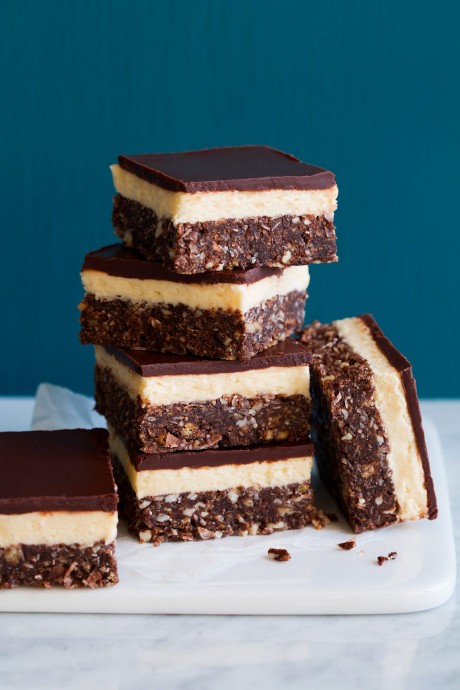 Nanaimo Bars – a deliciously tempting treat made with decadent chocolate, honey sweetened graham crackers, crunchy nuts, rich butter and custard powder. A no-bake dessert that's perfect for any time of the year!
Some of you are likely asking, what are Nanaimo Bars? They are a popular Canadian confection, basically a layered bar cookie, that to me tastes very similar to a richly chocolaty, loaded fudge. They are named after the west coast city of Nanaimo, British Columbia. They consist of 3 layers, a cracker crumb and chocolate base, a custard flavored icing and then they're finished with a chocolate coating. The instructions for these treats may appear to be long and tedious but these tasty treats are surprisingly super simple to make. They are a no-bake bar, after all.
After one taste you'll be wondering where these delicacies have been your whole life! To me they are reminiscent of fudge, or an Almond Joy – but much better of course. It's something about the chocolate, almond coconut combo. A great combination! Store Nanaimo bars in an airtight container in the refrigerator (because of the egg and dairy). Bring to room temperature before serving.
Ingredients:
Bottom Layer
1/2 cup (113g) unsalted butter, diced into pieces
1/4 cup (50g) granulated sugar
5 Tbsp (30 g) unsweetened cocoa powder
1/8 tsp salt
1 large egg, lightly beaten
1 3/4 cup (180g) graham cracker crumbs* (about 12 sheets)
1/2 cup (76g) almonds, finely chopped
1 cup (83g) sweetened shredded coconut
Filling
1/2 cup (113g) unsalted butter, softened
2 - 3 Tbsp heavy cream
2 Tbsp Bird's custard powder, or 1/4 cup powdered milk and 1 tsp vanilla
1 3/4 cups (210g) powdered sugar
Top Layer
4 oz semi-sweet chocolate, chopped
2 Tbsp (28g) unsalted butter