Raspberry Cheesecake Sheet Cake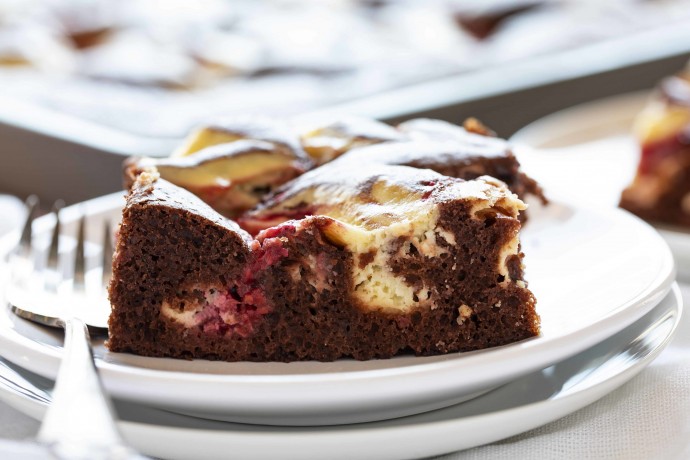 Deliciously moist sheet cake combined with velvety raspberry cheesecake. You won't want a regular sheet cake again! Cheesecakes are one of my favorite cakes to make and serve. I just love the velvety texture and of a good cheesecake. When I head to my kitchen, most days I try to experiment by incorporating things that I love into different dishes. I started thinking about pairing a rich and fruity cheesecake with one of my other favorite desserts, homemade moist and fudgy chocolate sheet cake.
To the kitchen I went, and the results were just as I expected. Glorious. To make this recipe you start with a traditional sheet cake base, my all-time favorite best ever chocolate cake recipe is the base for this delicious raspberry cheesecake sheet cake. This Raspberry Cheesecake Sheet Cake is going to take your sheet cake game to a whole new level.
Ingredients:
FIRST PART
1/3 cup (100g) brown sugar
1/3 cup (79g) strong coffee
1/2 cup (64g) dark cocoa
1 tablespoon butter
1 teaspoon vanilla
SECOND PART
1 1/2 cups (192g) all-purpose flour
1/2 teaspoon baking powder
1 teaspoon baking soda
1/2 cup (1 stick or 113g) salted butter, warm but not melted
1/2 cup (100g) granulated sugar
1/2 cup (100g) packed brown sugar
2 large eggs, room temperature
1/2 cup (118g) cold coffee
1 teaspoon vanilla
CHEESECAKE
4 ounces cream cheese
1/3 cups sour cream
1 large egg
1/8 cup granulated sugar
1 tablespoon flour
1 teaspoon vanilla
RASPBERRY
1 pint (6 ounces) raspberries, mashed
1/4 cup raspberry jam