Farfalle with Creamy Bacon Sauce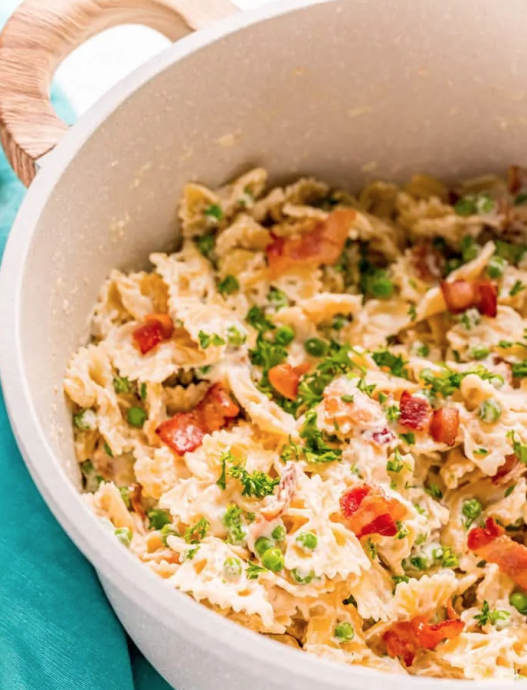 If you need a quick and easy weeknight meal, farfalle (bowtie pasta) with bacon is the perfect option! This creamy butterfly pasta pleaser comes together in minutes, looks elegant, and everyone will want your recipe! Farfalle is a pasta shape that looks like bow ties, but the actual Italian definition is 'butterflies' and both terms apply. It's about 3/4" to 1" long, is pinched in the center and the ends flay out, like a bowtie or wings. The edges may or may not be crimped depending on the brand.
When cooked the center of this pasta keeps a bit of extra bite or chew adding great texture to dishes. Farfalle aka bow tie pasta is the choice here, but it's ok to switch it for something different. Choose a medium pasta that the sauce will cling to like penne, rotini, or cavatappi.
Cheese ricotta and cream cheese are the base for this dish and make for a delicious sauce. Neufchatel is a lower fat version of cream cheese found in the dairy aisle as well. Bacon adds a great smoky and salt flavor to this dish. Feel free to substitute any kind of chopped cured meat for a flavor variation. Add in your favorites from thick slices of mushrooms and chopped spinach to leftover asparagus.
Ingredients:
1 pound farfalle pasta
½ pound bacon chopped, about 7 or 8 strips
2 tablespoons garlic paste
1 cup ricotta cheese
8 ounces cream cheese cubed
1 teaspoon kosher salt
½ teaspoon ground black pepper
¼ teaspoon crushed red pepper flakes optional
2 cups frozen peas
Parmesan cheese for serving
fresh parsley for garnish