Baked Kung Pao Chicken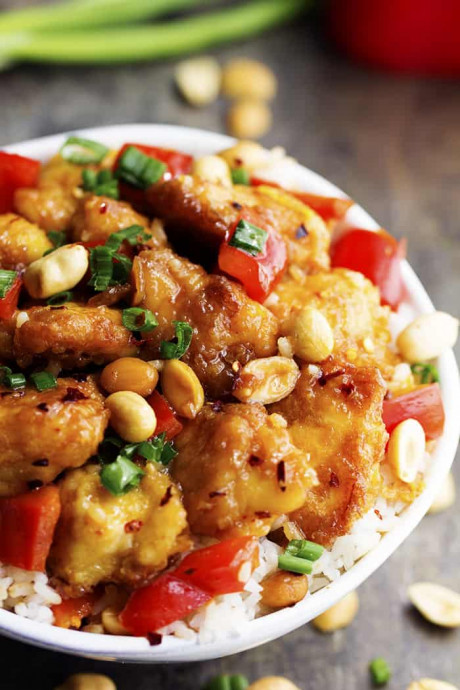 Delicious breaded chicken coated in a sweet and spicy sauce with peppers and peanuts hidden throughout. This is way better than any takeout you will have! The breading on this chicken is exactly what you would order at a nice chinese restaurant. The technique is spot on and couldn't be better. My favorite comment that I have gotten about this chicken is, "My husband was checking the garbage because he didn't believe that I made this. He thought that I ordered take out because it was so good!" The chicken bakes at a low temperature and it browns the chicken up perfectly and thickens up the sauce. Of course, you can just cook the chicken on the stove and toss it in the sauce, but I love how it comes out of the oven and is so delicious.
This chicken is one of my families favorite chicken recipes to make. They are always requesting it and I love to bake it. It is simple and comes together quickly. Plus the left overs are the best part. I can even make it into a meal plan with some white or fried rice. It makes for a complete meal with vegetables and rice as a side! One of the best chicken dinners your family will love!
Ingredients:
3-4 breasts chicken cut into bite sized pieces
Salt and pepper to taste
1½ cup cornstarch
3 eggs beaten
¼ cup canola oil
1/4 cup soy sauce
1/4 cup vinegar
1 tablespoon red chili paste like Sriracha
1 teaspoon minced garlic
1/4 cup brown sugar
1/2 tablespoon cornstarch
1 red pepper chopped
1/4 cup peanuts
green onions chopped for garnish