Homemade Potato and Cheese Pierogies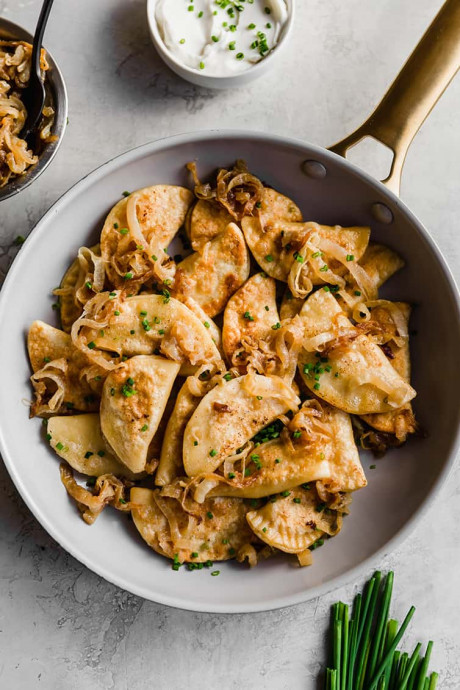 These homemade pierogies are made with a potato and cheese filling and dough that's a dream to work with. Simply saute in butter and serve with caramelized onions for a hearty and satisfying comfort food meal. Bonus that it's naturally vegetarian, as well, if you avoid meat or are cooking for someone who does.
I know, making pierogi at home sounds intimidating and time-consuming and totally unnecessary, but believe me when I tell you that these homemade pierogi are 100% better than anything you will find in the frozen food aisle. No need to be intimidated. The possibilities for pierogi fillings are only limited by your imagination! Potato and cheese is a very traditional choice, as is sauerkraut, but there are tons of recipes for others such as mushroom, meat, salmon, and the list goes on and on. Here are some ideas for what to serve with pierogi: sour cream, applesauce, fried and crumbled bacon, sautéed mushrooms, sauerkraut. If you've ever given a thought to making pierogi at home, please please please give it a try! You'll be amazed at the texture and flavor and will want to stock your freezer with these!
Ingredients:
FOR THE DOUGH:
2 cups unbleached all-purpose flour (plus extra for the work surface)
½ teaspoon salt
1 egg
1 egg yolk
1 tablespoon vegetable oil
4 to 6 tablespoons cold water
FOR THE CARAMELIZED ONIONS:
4 tablespoons unsalted butter
3 large onions (halved and thinly sliced)
¼ teaspoon salt
FOR THE POTATO AND CHEESE FILLING:
1 medium russet potato (about 9 ounces, peeled and sliced 3/4 inch thick)
1 tablespoon salt
¼ cup reserved chopped caramelized onions
1½ ounces cheddar cheese (shredded (about ⅓ cup))
1½ ounces farmers cheese (cut into small pieces (about ¼ cup))
1 tablespoon unsalted butter
Salt and ground black pepper (to taste)
FOR COOKING AND SERVING:
1 tablespoon salt
4 tablespoons unsalted butter (for sautéing)
Sour cream (for serving)