Beef Barbacoa – Mexican Pulled Beef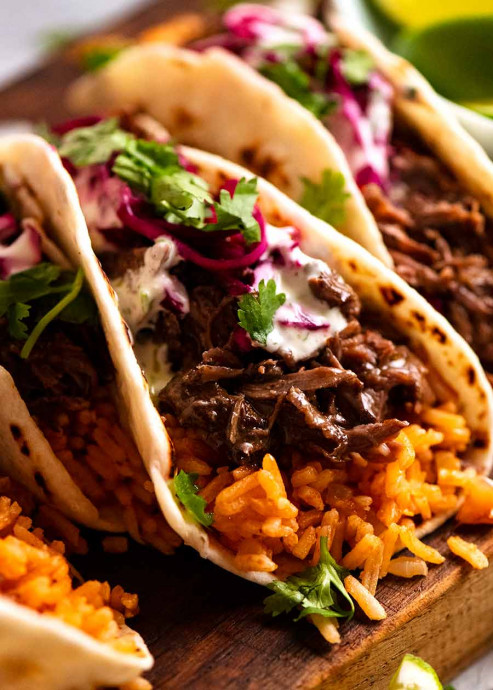 Anyone for ultra-juicy Mexican pulled beef tossed in a chipotle-spiced sauce? Use this Beef Barbacoa for tacos, burritos, enchiladas, taquitos – the possibilities are endless. This is a slow cooker version and is simple to put together. Which means … effortless. YES! Hailing from Mexico and the Caribbean, Beef Barbacoa is a dish of meat that's traditionally slow-cooked – often in pits – with seasonings or a light broth until very tender. As with many well-known ethnic dishes, Barbacoa made its way across borders into the Western world, where it has evolved into a dish of soft, shreddable meat that's much more boldly flavored.
Made famous by the Tex-Mex chain Chipotle in the US, Western-style Beef Barbacoa has got a fair kick of spiciness from chipotles, a subtle smokiness, hint of spices (the cloves really sets it apart from other pulled Mexican beef), and uniquely, a good amount of tang from vinegar. The beef is cooked until fall-apart-tender, then prised apart gently with forks before being tossed with the full-flavored braising liquid. Moistened and flavored by the sauce, the meat is rich and extremely versatile. Use it for filling anything from tacos to burritos, enchiladas to quesadillas. The unique thing about Barbacoa is the slight tartness of the sauce from vinegar and lime, which cuts through the rich meat, and the warmth from cloves.
Ingredients:
2kg / 4 lb beef cheeks , or chuck beef
1 tsp salt , kosher/cooking
1 tsp black pepper
2 tbsp vegetable oil , for searing
4 bay leaves
4 chipotle chiles in adobo sauce
3/4 cup dark ale (beer), or low sodium beef broth/stock
1/2 cup apple cider vinegar
4 tbsp lime juice
6 garlic cloves
4 tsp ground cumin
2 tsp oregano
1/2 tsp ground cloves