Summer Vegetable Tian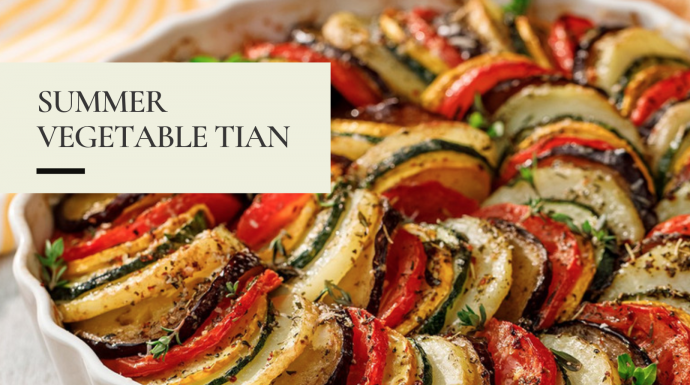 Why can't vegetables be plentiful and yummy all year long? I don't know, but I intend to enjoy them while they're around. This Summer Vegetable Tian is the perfect easy side to showcase the medley of delicious vegetables the summer has to offer. Fresh summer vegetables and savory herbs are layered together then topped with cheese before baking to perfection in this summer vegetable tian. Healthy, colorful and delicious, it's truly veggietastic.
Tian is the word for both the pottery casserole in which this dish is cooked and the dish itself. I always think of a tian as having a mélange of tomatoes, onions, zucchini and sometimes eggplant (like ratatouille), but I think that's because I've taken my notion of a tian from my Grandmother, who summed up the dish perfectly: she said the best ones should have too much oil, enough salt and a long cooking. In other words, if your vegetables melt and border on jam, you've made a good tian. However, I'm giving you a choice of the amount of the oil. Use the lower amount, and you'll have a flavorful tian with just enough "sauce" to keep the vegetables moist; use the higher amount, and you'll have enough oil to use as a dunk for bread.
This way of cooking makes even less-than-wonderful vegetables taste good. Since the eggplant will soak up more juice than it will give off, it's good to bookend it with slices of tomato. It's also nice to put the zucchini and onions together. Use whatever herbs you have and use them abundantly, and don't be afraid of salt, pepper and garlic.
Ingredients
5 to 9 tablespoons (75 to 135 ml) extra-virgin olive oil
3 garlic cloves, germ removed and thinly sliced
About 10 sprigs fresh herbs (I take parsley, thyme, rosemary, tarragon and basil)
Fine sea salt and freshly ground pepper
1½ pounds (680 grams) tomatoes
½ pound (227 grams) zucchini, green and/or yellow, scrubbed and trimmed
¼ pound (113 grams) eggplant, washed and trimmed
¼ pound (113 grams) red onion(s)
¼ pound (113 grams) potatoes - optional
Good bread, for serving
Directions
Step 1
Preheat the oven to 400 F.
Step 2
Pour 2 tablespoons of the oil into the baking dish (I use a 9-inch pie plate to make my tian, but you can use any ovenproof casserole of a similar size. If you have a bigger or smaller pan, just multiply or divide the recipe — it's completely flexible.) Scatter over half of the garlic and a little more than half of the herbs and season generously with salt and pepper.
Step 3
Slice the vegetables: they should be cut about ¼ inch thick. Ideally they should all be about the same size, so if any are particularly large, you might want to cut them in half the long way before slicing them. This is a nicety, not a necessity.
Step 4
Arrange the vegetables in the dish in tightly overlapping circles. Try to squeeze the eggplant between slices of tomato and get the zucchini and onions to cuddle up to one another. Keep the circles tight, since the vegetables will soften and shrink in the oven. Season generously with salt and pepper, tuck the remaining slivers of garlic in among the vegetables, top with the remaining herbs and drizzle over as much of the remaining oil (3 to 7 tablespoons) as you'd like.
Step 5
Place the tian on a baking sheet lined with foil, parchment or a silicone baking mat.
Bake the tian for 1 hour, until the vegetables are meltingly tender and the juices are bubbling. If top begins to brown too quickly, cover with aluminum foil.
Serve the tian a few minutes out of the oven or allow it to cool to room temperature. Either way, you'll want bread . . . a lot of it.
Tips
The tian is best the day it is made, but leftovers can be kept covered in the fridge for a day. Pull it out a few hours before serving or, if you'd like, warm it gently in a microwave or a 350 F oven.
You can reheat the tian, but you can also repurpose the vegetables. They make wonderful bruschetta — top the vegetables with a little ricotta, season and drizzle with oil. They're terrific as a topping for homemade pizza. Chopped, they make a really nice base for a pasta dish — toss the pasta with the vegetables and oil, add some fresh oil and pepper flakes and dinner is done.
Bon appetit!