Easy Sloppy Joe Casserole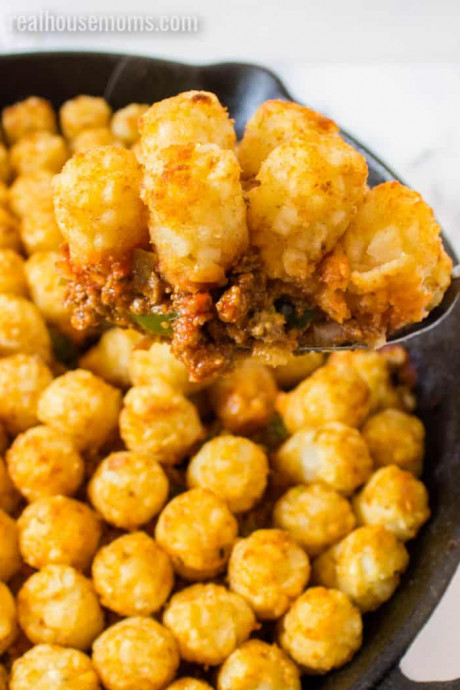 Easy Sloppy Joe Casserole is made from scratch, then topped with crispy tater tots. Make this ultimate comfort food dinner tonight with the whole family! While this Sloppy Joe Casserole swaps the buns for tater tots, the meat, veggies, and Sloppy Joe sauce scream childhood memories. If you've never made homemade Sloppy Joe sauce, it's a thousand times better than mixing ground beef with the store-bought sauce in a can. Sloppy Joe sauce made from scratch is super easy and the flavor can't be beat! Most of the ingredients here are pantry staples, so it's an easy last-minute weeknight meal! All you need is a bag of frozen tater tots, some ground beef, and a couple of fresh veggies.
This easy Sloppy Joe Casserole is a quick weeknight dinner that's delicious and comforting! If you don't have an oven-safe skillet, don't fret! Do the stovetop steps before transferring the beef, veggie, and sauce mixture to a baking dish. Then top the mixture with tater tots and bake as directed! Looking to get the prep work out of the way early? Easy! Cook the beef, veggie and sauce mixture on the stovetop. Transfer to another container, such as a casserole dish or Tupperware container, or wait until your pan has cooled. Once cooled, refrigerate for up to 48 hours or freeze for up to a few months. When ready to bake, top with tater tots and enjoy!
Ingredients:
1 pound ground beef
1 large yellow onion finely chopped
1 large green bell pepper finely chopped
15 ounces no-salt-added tomato sauce
1/4 cup ketchup
2 tablespoons tomato paste
1 tablespoon yellow mustard
1 tablespoon Worcestershire sauce
1 teaspoon chili powder
1/2 teaspoon salt
1/2 teaspoon sugar
1/2 teaspoon dried oregano
Black pepper to taste