Swedish Meatball Pasta Bake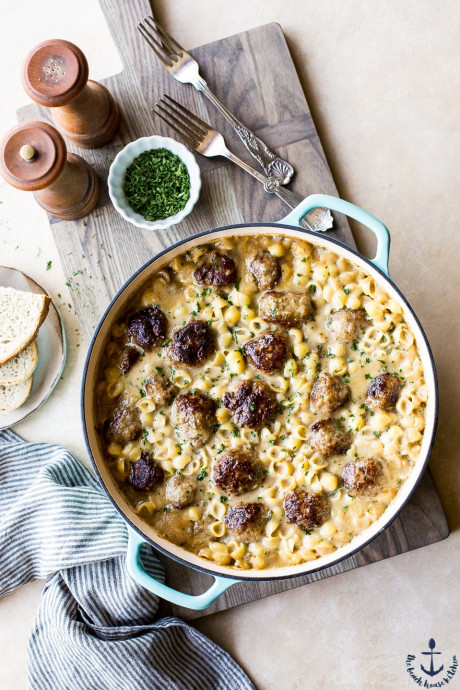 This is the kind of comfort food dish that you make on the weekend. Think Swedish meatballs meets a casserole and that's what we've got going on here today. Nifty, right? I tend to prefer casseroles in the winter time. Maybe it's because they tend to be heavier and ideal for cold nights. Which means if you're counting calories then save this recipe for a day when calories don't count. As a heads up, this recipe takes a bit of time to make, which is the real reason why I suggest making this on a weekend. It's not difficult to make, but there a lot of steps. It took me way longer than I thought it would.
Savory meatballs, smothered in a creamy sauce, with pasta. Check, check, check! First, I brown the meatballs in my cast iron skillet to give them a nice crispy outside. I make the gravy in the same skillet, scraping up the little brown bits at the bottom of the pan for extra flavor. If you've never tried Swedish meatballs, I think you'll really enjoy the distinct flavor that the allspice and nutmeg give to the tender, juicy meatballs. And that gravy…YUM! This is one comfort dish you really need to try folks. I guarantee it'll be a hit. Enjoy!
Ingredients:
2 cups small shell pasta, uncooked
Meatballs
4 Tbsp. butter
2/3 cup yellow onion, finely chopped
2 tsp. kosher salt
1/2 tsp. freshly ground black pepper
1/2 tsp. ground allspice
1/4 tsp. nutmeg
3 cloves garlic, minced
2/3 cup milk
1 1/4 cups plain panko bread crumbs
1 lb. ground beef, I use 80/20
1 lb. ground pork
2 large eggs, beaten
3 Tbsp. olive oil
Gravy
6 Tbsp. butter
7 Tbsp. all-purpose flour
4 1/2 cups low sodium beef broth
1 Tbsp. Worcestershire sauce
3 Tbsp. fresh parsley, finely chopped
1/2cup heavy cream
1 Tbsp. kosher salt
1/2 tsp. freshly ground black pepper
Half Serving of Meatballs
2 Tbsp. butter
1/3 cup yellow onion, finely chopped
1 tsp. kosher salt
1/4 tsp. freshly ground black pepper
1/4 tsp. ground allspice
1/8 tsp. nutmeg
2 cloves garlic, minced
1/3 cup milk
1/2 cup plus 2 Tbsp. plain panko bread crumbs
1/2 lb. ground beef, I use 80/20
1/2 lb. ground pork
1 large egg, beaten
1 1/2 Tbsp. olive oil