Thai Style Crab Fried Rice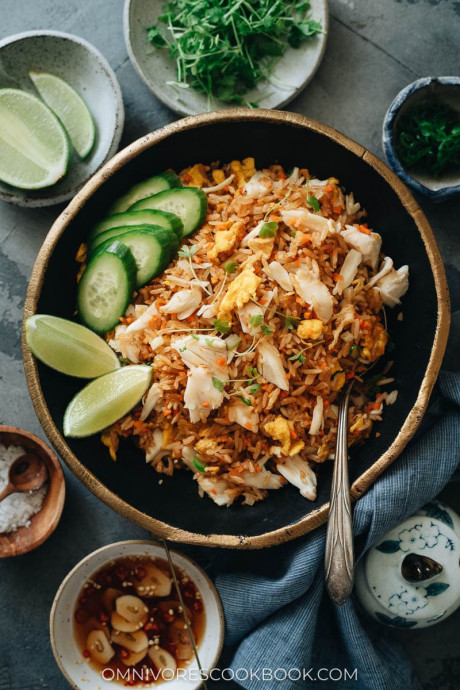 For something ultra-delicious in minutes, try this crab fried rice for a one-pan meal that is bursting with delicate seafood flavor! Ever get in one of those moods where you want something that truly satisfies your craving for a luxe meal without all the fuss? I know I do, which is why you're going to love this crab fried rice recipe. You only need one pan, too, which means cleanup is just as breezy as putting this together.
With this crab fried rice, the rice is lightly seasoned so that it won't take away from that delicate crab flavor. It's for this reason that I served it with a side sauce. Traditionally, in Thai crab fried rice recipes, it calls for fish roe to further boost the flavor. However, I've found that some restaurant versions use minced carrot instead, to mimic the shape and reduce the cost. That's how I tried it. And I really liked this result quite a bit, since the carrots add a nice, sweet taste and texture to the rice. I will say that the quality of your crab fried rice definitely depends on the crab you can find. There are cheaper canned lump crab options in the Asian markets. But you can also go for the fancier ones at organic grocery stores too. If you really want to elevate the flavor, choose the best lump crab meat you can find and you'll be swooning over this luxuriously flavored dish any night you crave it!
Ingredients:
2 tablespoons vegetable oil
4 cloves garlic , minced
2 eggs , beaten
3 cups day-old long grain rice (*Footnote 1)
1 tablespoon light soy sauce (or regular soy sauce)
2 teaspoons fish sauce
1 teaspoon sugar
1/4 teaspoon white pepper
1 tablespoon unsalted butter (*Footnote 2)
1 can (6-oz / 170 g) lump crab meat , drained (yield 1/2 cup)
1/3 cup finely diced carrots (or frozen carrots) (*Footnote 3)
1/4 white onion , finely chopped
2 green onions , sliced (or 1/2 small white onion, diced)