Tomato Orzo with Chicken Sausage and Broccoli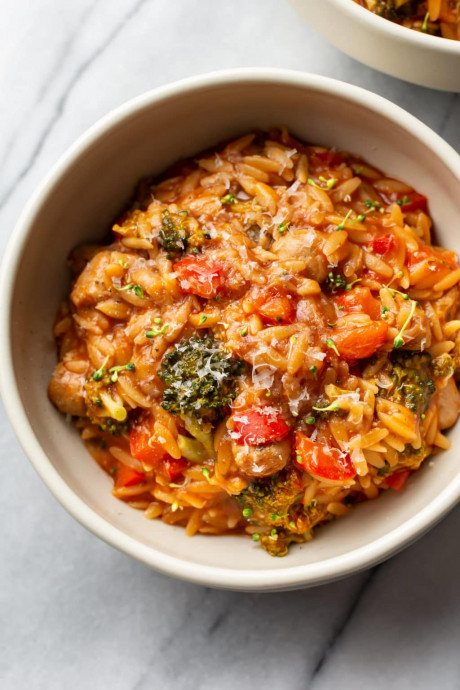 This tomato orzo recipe is made in one pot for an easy meal! Chicken sausage, broccoli, and a tomato sauce make this one yummy pasta. I've been on a bit of an orzo kick lately, and I wanted to do something a little different. I don't often cook with chicken or turkey sausage, and if you've followed me for any length of time, you'll know that I gravitate towards creamy sauces, but here we are.
This recipe is good for busy weeknights. Prep isn't too time-consuming, ingredients are readily available, and you don't have to do a ton of dishes with this one. It's sort of like a risotto but with less work. Use chicken or turkey sausage. I used an uncooked "breakfast" variety of turkey sausage since the store was completely out of chicken sausage that day, but you definitely have some flexibility here. Or just use pork sausage if that's what you prefer. If you don't want to include the broccoli, you can skip it. Or sub with another vegetable that's also chopped fairly small. Or, you may want to sub it with spinach. Love olives? Some pitted Kalamata olives would be a great addition to this dish. As with any one pot pasta dish, the liquid quantities work as tested on my stove, but pots/stoves/temperatures can vary from my kitchen to yours, so if you feel like it needs more liquid, add another splash of broth. If it seems too wet, I recommend covering the pot when it's done (take it off the heat), and it'll soak any excess liquid up in a few minutes.
Orzo isn't rice. It's pasta. If you want to sub the orzo for rice you may need to adjust liquid measurements and cooking time (rice typically takes longer).
Ingredients:
1 tablespoon olive oil
12 ounces chicken sausage cut into rounds
1/2 medium onion chopped
3 cloves garlic minced
1 cup uncooked orzo pasta
1/4 teaspoon Italian seasoning or more, to taste
2 cups chicken broth
1 (14 fluid ounce) can tomato sauce
2 cups broccoli cut into small florets
1/2 red bell pepper chopped
Freshly grated parmesan cheese optional, to taste
Salt & pepper to taste