Vanilla Chiffon Cake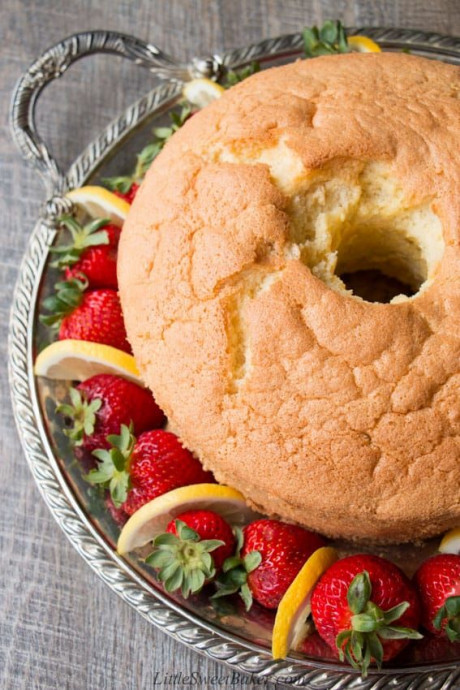 This classic chiffon cake is tender and light as air. It has the richness of a butter cake and the fluffiness of a sponge cake. Check out my easy method of making this wonderful and special cake that fits any occasion. Chiffon cake is a type of foam cake, which has a high ratio of eggs to flour and is leavened mainly from the air beaten into the egg whites.
It's similar to an angel food cake, but instead of using just egg whites, chiffon cake recipes use the whole egg. This gives a richer and more flavorful taste to the cake, and there is no question of what to do with the leftover egg yolks. It's also similar to a sponge cake which is basically just eggs, sugar, and flour, but there is oil added to the batter. This makes the texture of a chiffon cake more moist and silky which is why it's my favorite type of cake out of the three.
It's a very light and simple, yet delicious cake. So it's a nice change from all the heavy decadent desserts out there. I kept the flavoring simple with just vanilla, but you can add some lemon zest or a touch of almond extract as well. The rest of the ingredients are all your usual pantry staples. The method of this recipe is easier than most. The dry ingredients and all of the wet ingredients, except for the egg whites, are prepared in the same bowl. The meringue and the egg yolk batter are prepared using the same beaters. So there is no mixing of everything separately or using a bunch of different utensils.
Ingredients:
2 cups (235g) cake flour
1&1/2 cups (300g) granulated sugar
1 tbsp (12g) baking powder
1 tsp (5g) salt
7 large egg yolks, room temperature
1/2 cup (125ml) vegetable oil
3/4 cup (188ml) cold water
1 tbsp (15ml) vanilla extract
7 large egg whites, room temperature
1/2 tsp (2g) cream of tartar