Cranberry Walnut Bread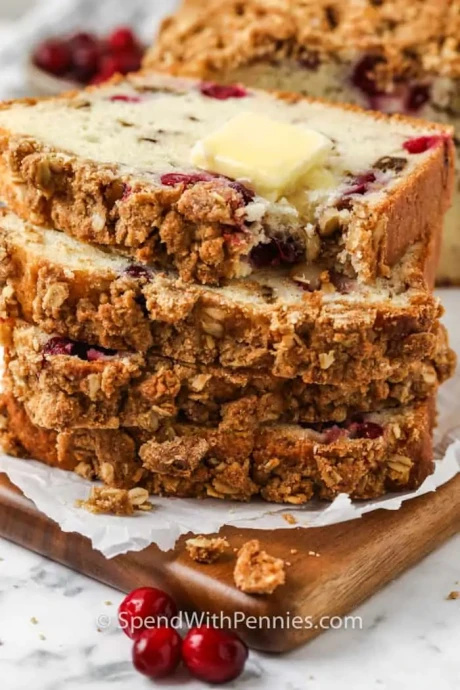 Cranberry Walnut Bread is soft and fluffy with lots of tart cranberries and a delicious crunchy streusel on top! A soft quickbread filled with cranberries and walnuts topped with a crumble topping. This quick bread takes no time at all and comes out with the perfect crumb. The sweet crumble topping is perfect with the tart berries and delicious warm from the oven. Not only is it absolutely delicious when it's hot and fresh, but it freezes well and makes amazing French toast with warm maple syrup and whipped cream!
So what exactly is a Quick Bread? Quick breads are so popular because the yeast is replaced with a different leavening agent like baking soda or baking powder (like when you make banana bread). It's "quick" because there is no rising or kneading needed. Baking Tips: Do not overmix the batter. Overmixing will eliminate the air pockets that quick bread needs in order to rise properly. For extra crunchy nuts with a more intense flavor, toast them in a small pan until fragrant and cool before adding. Check the bread early to ensure it doesn't overcook. Check for doneness by inserting a toothpick in the center of the loaf. If it comes out clean the bread is done. Cool in the pan for 10 minutes. Remove and place on a cooling rack to cool completely.
Ingredients:
3 cups all-purpose flour
¾ cup white sugar
1 tablespoon baking powder
1 teaspoon salt
1 teaspoon baking soda
2 cups buttermilk
1 egg lightly beaten
¼ cup butter melted
1 ½ cups fresh cranberries
½ cup walnuts chopped
⅓ cup all-purpose flour
¼ cup packed light-brown sugar
¼ cup oats
2 tablespoons cold butter cubed
⅛ teaspoon salt
⅛ teaspoon ground cinnamon.