Chocolate Whoopie Pies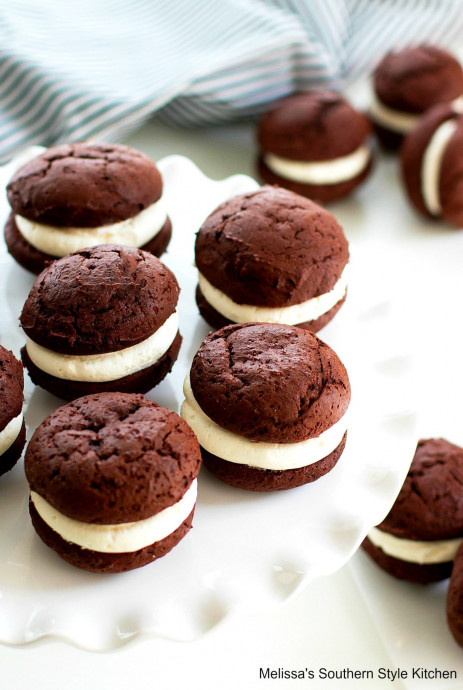 These irresistible Chocolate Whoopie Pies with their creamy marshmallow filling, are a handheld delight loved by kids and adults like. Enjoy them as a casual anytime dessert, pack-up and take to picnics or serve them for your next potluck party. Whoopie pies are sometimes called gobs, in different parts of the country. They consist of two cake-like chocolate cookies sandwiched together with a creamy marshmallow filling. Special whoopie pie and muffin top pans are available to keep them pretty and round while baking. I wanted to share a version that didn't require a special pan so, I began to work on a batter that would hold it's shape without any special equipment.
First of all, these aren't difficult to make. You bake them just as you would any cookie. Don't overcrowd the pan and bake in batches for the best end result. For a deeper dark chocolate flavor I recommend using either dutch process cocoa or Hershey's special dark cocoa for the batter. The recipe will work with regular unsweetened cocoa, but, dark cocoa gives them a depth of flavor.
A medium-size cookie or ice cream scoop is imperative to divide the batter and maintain uniformity. These cookies bake dome-like and spread just a bit while baking. Leave at least 2 inches between them and bake in batches so they don't touch and get a wonky shape. Before you begin filling the whoopie pies, take a moment to match similar size cookies before you sandwich them together. Ovens really do vary so, adjust the baking time as needed. Baking for 8-10 minutes, will keep the cookies tender. These cookies bake cake-like and may crack a little on top. This is normal and part of their charm.
Ingredients:
2 ¼ cups all purpose flour
½ cup unsweetened dutch process or special dark cocoa powder
1 tsp baking powder
½ tsp baking soda
¼ tsp salt
½ cup butter softened
½ cup granulated sugar
½ cup packed light brown sugar
1 large egg
1 tsp pure vanilla extract
1 cup milk or buttermilk
Filling:
4 Tbsp unsalted butter softened
1 cup powdered sugar
2 Tbsp heavy cream plus additional as needed
1 tsp pure vanilla extract
1 7.5 oz container marshmallow fluff