Orange Crumble Tart With Vanilla Bean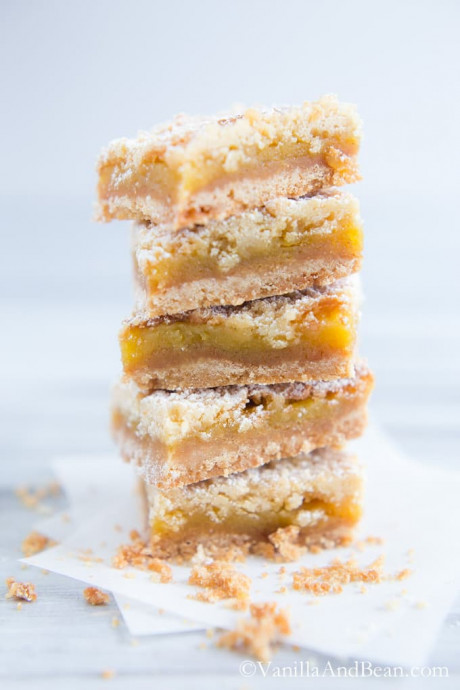 Creamy orange curd and vanilla bean float between two buttery, crumbly crusts. Cut them into squares to enjoy on-the-go or for an after-dinner indulgence. Orange crumble tart with vanilla bean is made up of just two components; crust and curd. First, make the short-dough crust, and rest it in the fridge. Scoop out a cup of crust and set aside. Second, press the crust into a pan and par-bake it. Third, whip up the orange curd filling. Next, pour the curd filling into the par baked crust and crumble the reserved short dough over the tip. Last, once assembled, bake the tart again, cool, then slice. Easy!
Share at room temperature. This is where the creamy, almost gooey curd is at its best. This tart is crunchy, crumbly, creamy, buttery and citrusy with a hint of vanilla. Serve with a dusting of confectioners sugar or a dollop of sweetened whipped cream. It's a bite of sunshine.
Ingredients:
For the Crust:
1/2 C Granulated Sugar Evaporated Cane Juice, 115 g
1 C Unsalted Butter room temperature, 2 sticks (230 g)
1 1/2 tsp Vanilla Bean Paste or Vanilla Extract I use Rodelle
1 1/2 C All Purpose Flour 252 g
1 C White Whole Wheat Flour 162 g
1/4 tsp Sea Salt
For the Curd:
1 1/4 C Granulated Sugar Evaporated Cane Juice, 222 g
7 Organic Egg Yolks *See Notes 128g
2 Tbs Orange Zest (2 large oranges I like Cara Cara)
2/3 C Orange Juice from Zested Oranges 157 mL
1/2 tsp Vanilla Bean Paste or Vanilla Extract
7 Tbs Unsalted Butter room temperature, cut into 1/2-Tbs pieces (96 g)
1/4 tsp Sea Salt
For Finishing:
1-2 Tbs Confectioners Sugar for dusting AKA Powdered, 8-16 g
Sweetened Vanilla Bean Whipped Cream optional