Ambrosia Salad Recipe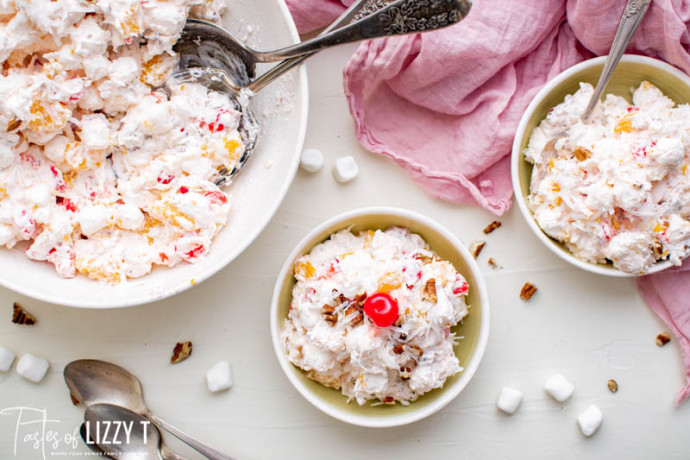 Was ambrosia salad ever been on your dinner table growing up? We often had a jello salad or ambrosia at holiday dinners. And with all of the rich foods the holidays bring, it's cool and refreshing texture was a welcome addition to my plate. Is ambrosia a salad or a dessert? You decide. In the midwest we like to call dishes like this "salads", although we know there is not much leafy and green about them. It's much more like a dessert, but often served as a side dish.
Why you'll love this recipe: it is an old fashioned recipe that has stood the test of time, it is also light and sweet for holiday dinners or summer picnics. There are different recipe variations to lighten up the calories and fat. Whip one cup of cold heavy cream and 1/4 cup powdered sugar until it holds peaks and use this in place of the Cool Whip. Add vanilla pudding for extra sweet vanilla flavor. Use low fat cream cheese, low fat sour cream and sugar free Cool Whip to lower the calories and fat. Use fruit cocktail instead of the separate canned fruit. My mom often uses colored marshmallows which gives it a pretty look. Add grapes if you'd like! It's perfect for potlucks or for when you don't want a rich dessert.
The term ambrosia comes from Greek mythology where it references "the food of the gods". We've had it on holidays for years. It's full of pineapple, oranges, coconut, nuts, marshmallows and a creamy filling. You'll often find it topped with maraschino cherries for a gorgeous look.
Ingredients:
4 ounces cream cheese (at room temperature)
¼ cup sour cream
8 ounces cool whip (thawed)
20 ounces crushed pineapple (drained as much as possible)
16 ounces maraschino cherries (drained and each cut in half)
15 ounces mandarin oranges (drained and each cut in half)
3 cups mini marshmallows
½ cup chopped pecans
½ cup shredded sweetened coconut