Traditional Turkish Pide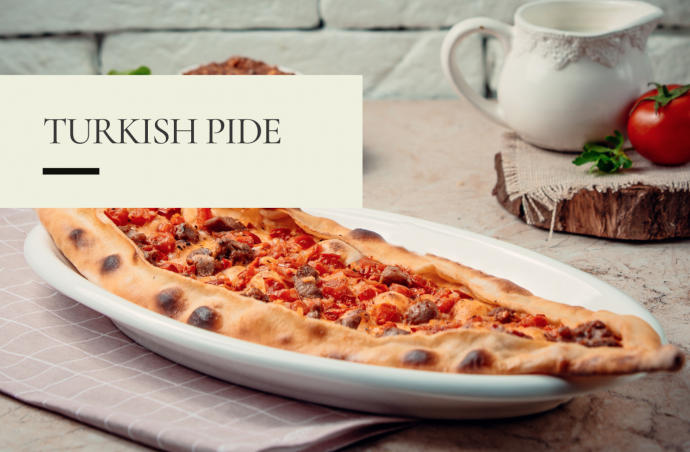 Turkish cuisine is one of my favorite cuisines and traditional Pide is one of my favorite dishes for lunch. Pide is also known and described as a Turkish pizza for its' filling. It can be made with a variety of toppings but is most commonly seen with Ground Beef or Lamb, onions and red pepper.You can also add an egg and cheese or just cheese, and a vegetarian version would include tomatoes, mushrooms or peppers. Turkish Pide is usually shaped round, oval or "boat" and served with a wedge of lemon.
Ingredients
For the dough
2/3 cup warm water
1 tsp granulated sugar
1 1/2 tsp dry yeast
2 cup bread flour
1 tsp salt
1 tbsp olive oil
For the filling
2 tbsp olive oil
1 red onion, cut into cubes
2 garlic cloves, chopped
salt to taste
14 oz minced beef of lamb
1 tsp smoked paprika
1 tsp cumin powder
1 tsp red pepper flakes
1 large ripe tomato, around 7 oz peeled & cut into cubes
2 tbsp chopped parsley
1/2 tsp Dried Oregano
1 cup Grated Mozarella or Cheddar (optional)
2 Eggs (optional)
Directions
Step 1
To make the dough, add the flour, yeast, sugar and salt to a large bowl. Keep the salt away from the yeast for now.
Step 2
Drizzle in the oil and add the water slowly little by little until a dough is formed.
Step 3
Knead in stand mixer for 7 minutes on the lowest speed or by hand for 10 minutes until elastic.
Place the dough into an oiled bowl and leave to rise in a slightly warm (not hot) place for 1 hour.
Step 4
While the dough is rising, let's make the filling. Heat the oil in a large fry pan and add the onion and garlic and sauté for a minute or two until golden brown. Then add the pepper. Cook for 2 minutes.
Step 5
Now add the tomato and cook covered on low for 10 - 15 minutes. Add a splash of water to ensure it doesn't stick.
Step 6
Now add the mince, red pepper flakes, oregano, salt and pepper and cook on low heat for around 10 minutes. Squeeze in the lemon juice and stir. Allow to cool.
Step 7
Line the tray with parchment and preheat oven to 400F. Divide the dough into 2.
Roll into a long oval shape on a floured surface or use your hands to stretch out onto a lightly greased baking tray.
Step 8
Add some of the filling to the center of a Pide, leaving a 1-inch gap around the sides. Top with cheese if using.
Fold over the sides and twist the ends if you like. Baste with eggs.
Bake for 18 - 20 minutes or until golden.
Brush with melted butter and serve hot.
I hope you give this Pide a try. Adjust it to your taste, that's what makes cooking fun. Serve warm. Or hot, if you can take the heat ? Enjoy!