Chocolate Mousse Tarts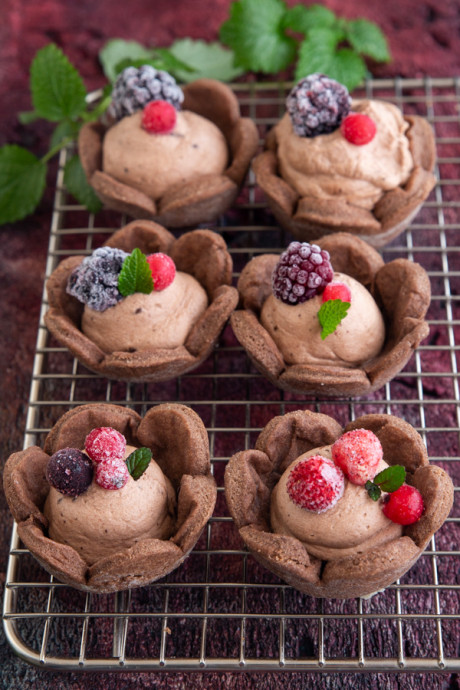 Chocolate Mousse Tarts, for anyone who adores chocolate. An easy homemade tasty chocolate crust, filled with a creamy chocolate mousse. I don't know about you but I love chocolate, dark, milk and even white chocolate and now I had the pleasure of trying Ruby Chocolate, so what could be better than a chocolate pastry filled with chocolate mousse!? Classic Mousse is made of 4 ingredients, eggs, dark chocolate, sugar and vanilla. It is a soft light creamy dessert that can be either sweet or savory. This "Mousse" is an egg free version. Fast and easy.
If you do not want to use a chocolate crust then by all means you can substitute with an Italian Pie Crust, a Brown Sugar Dough or even a Classic Pie Crust. Or you can skip the crust completely and serve the mousse on it's own with some fresh berries on top. The pastry dough can be made in advance and kept refrigerated for up to 2-3 days. Make sure to wrap it tightly with plastic wrap before storing.
Ingredients:
Pastry dough
1 (I used chocolate pastry dough). Half the dough will make 6 tarts, using a 3 ½ inch cookie cutter.
Chocolate mousse
4 ounces dark or white chocolate (chopped into small pieces)* (114 grams)
1/4 cup milk (whole or 2%) (60 grams)
1 cup cream whole/whipping/heavy (250 grams)